Check out related news!
Citizen unveiled the new 880 Mechanical with GMT function in the Citizen Series Eight, a mechanical watch brand with a modern sporty design that combines function and practicality. In addition, the company has unveiled a limited edition gold-coloured model inspired by the fall of Japan, and a total of three models from the series will be released this fall.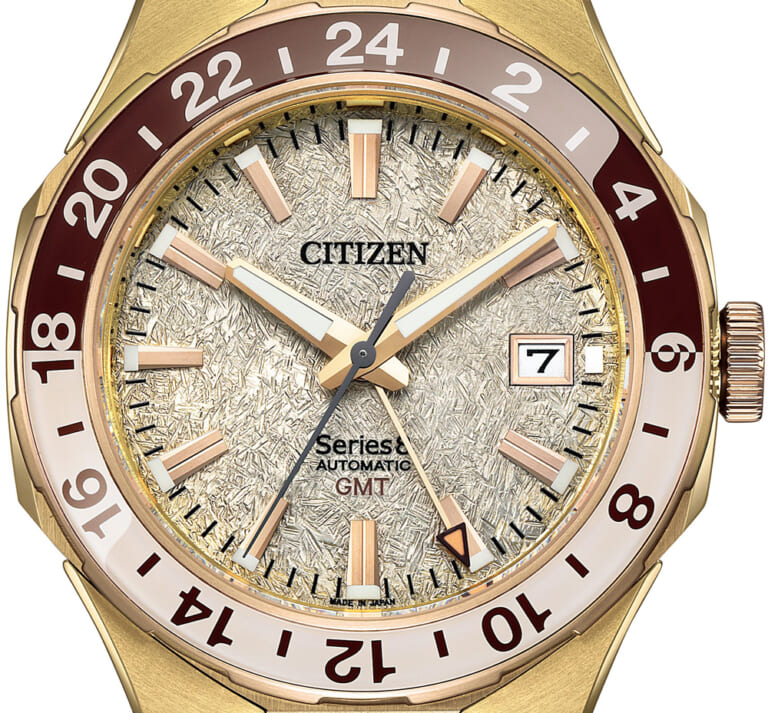 [See more images of 880 Mechanical]
The 880 Mechanical features a modern and powerful design befitting active functions, with the addition of GMT functions that allow users to check up to three times using double rotating bezels. The limited-edition model uses a stamped pattern on the dial that feels the shades of light inspired by the autumn meadows illuminated by the setting sun, and the regular model uses the night view of Tokyo as a motif and combines the image of windows of different sizes of buildings with the checkered pattern that has been popular in Japan with the meaning of prosperity.
The two-body center case, which is composed of sharp straight lines, is finished by using mirrors and hairlines for each surface in order to emphasize the three-dimensional beauty. In addition, the see-through movement that allows you to feel the heartbeat from the back pig is equipped with second-class antimagnetism, and can maintain its performance in most cases even when it is brought close to a device that generates a magnetic field.
The price is 242,000 yen for the limited edition model in gold color. Regular models cost 220,000 yen each.
【Contact】
Citizen Customer Watch Consultation Room
TEL.0120-78-4807
Watch LIFE NEWS Editorial Department
[Check out other news! ]】
■[Citizen | New Watch News]The limited edition model of "The CITIZEN" released on June 28 pays attention to the color of the dial!
■ Citizen's latest photovoltaic eco-driving movement is fully charged for 365 days (!!) Powerful machine with drive
■Quality that threatens overseas brands!? Domestic mechanical watches you should buy now[CITIZEN edition]