Jaquet Droz CEO Alain Deramla has launched a shocking new strategy: "Jaquet Draw 8.0, Disruptive Legacy." He will abandon the entry class and focus on unique pieces of CHF 150,000 or more. He says.
Yukiya Suzuki (Chronos-Japan)
[From the March 2023 issue of Kronos Japan edition]
Abolish the entry class and seek a way out for the modern "king"
Alan Deramla
CEO Jaquet Droz. Born in Switzerland in 1964. For 12 years, he worked internationally in the hotel industry as a general manager in Switzerland, the United Kingdom, Ecuador, and Beaurivage Palace Lausanne. In 1997, he worked with Nicholas G. Hayek and Jean-Claude Biver on Blancpain, first with Omega and then with Mark A. Hayek. For more than 15 years, as a member of Blancpain's management committee, he contributed to a 15-fold increase in sales through marketing strategies such as the development of mono-brand boutique concepts and the success of new products. He then left Blancpain, but returned to the Swatch Group in 2021 as CEO Jaquet Droz to launch a new strategy targeting the wealthy.
"Jaquet Droz itself is a very good brand with a long history, solid heritage and technology, but until now it has been a little quiet and quiet.
In the 18th century, the founder, Pierre Jaquet Droz, sold the finest works he created directly to royalty and aristocrats in Europe and China. Does this mean that this will be revived in the modern Jaquet Draw and further upscaled?
"There is a complete difference between customers who buy products in the million yen range and those who buy high-end high-priced items such as automatons. When I thought about it, I came to think that they were people who had the financial ability to buy expensive products. Those who buy products in the million yen range and those who can buy automata have different consumption behaviors and different services required. As a brand, in order to provide the service and hospitality that the latter segment deserves, we must not do anything half-hearted, but respond with a system that matches it."
What exactly will we do?
"In the future, we plan to offer products worth more than 10 million yen and target customers who can purchase them. For these wealthy people, it is important for the brand side to approach customers and introduce their products, rather than having them come to the store. Therefore, we will abolish the conventional system of sales offices and close our 156 authorized dealerships around the world. As an exception, we will create a new space called Jaquet Draw Boutique within our headquarters in Switzerland where we will welcome customers. In addition, the Ginza boutique in Japan will remain as a showroom. In the future, we are switching to a system called direct sales that directly connects the head office workshop with customers. We will build a system that allows us to provide our customers with a single watch that is limited to the world for themselves."
We connect customers around the world with the Manufacture's designers and craftsmen using "physical". Jaquet Droz embarked on personalization, an old but new high-value creation by making full use of digital technology. This challenge is attracting the attention of people involved in the watch industry around the world.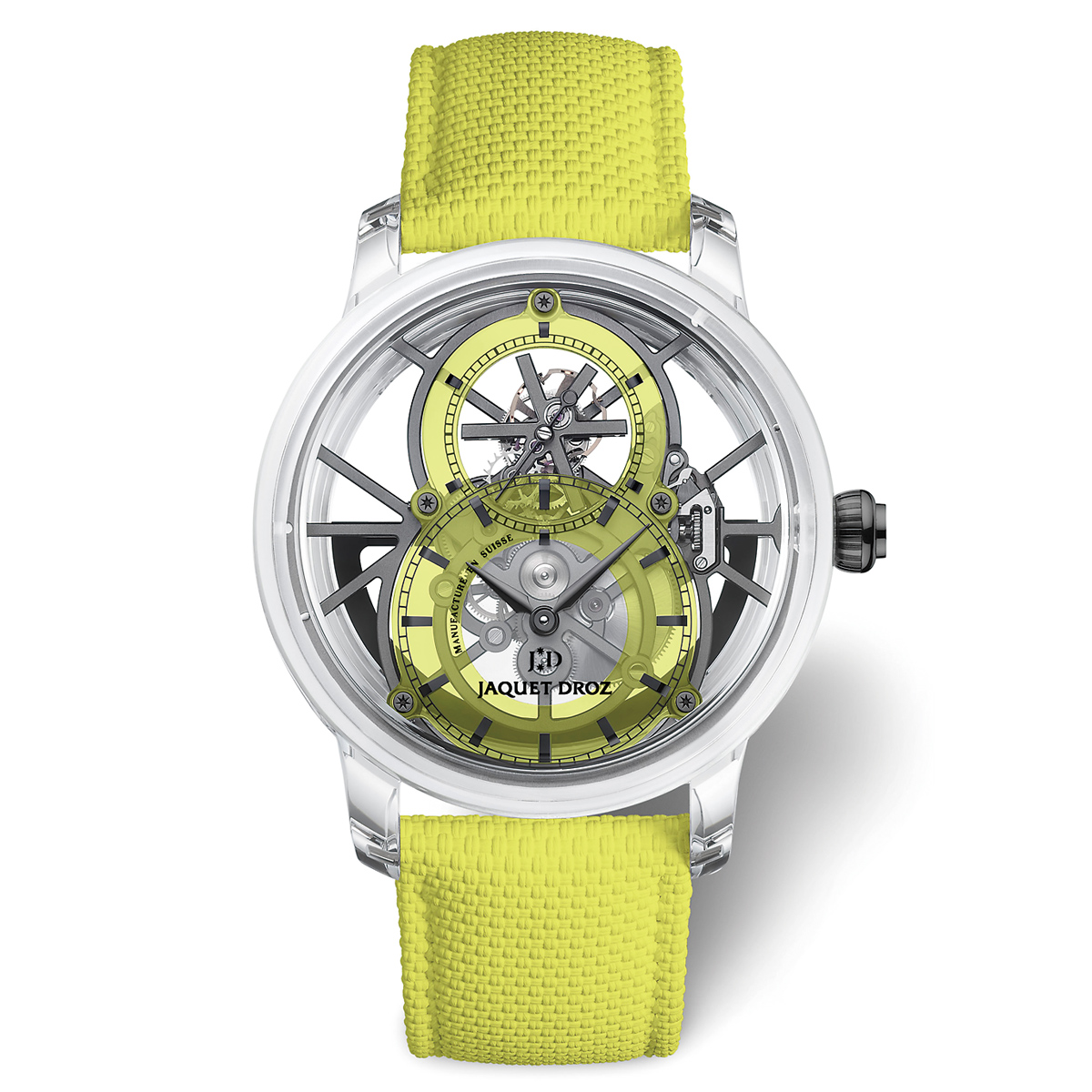 Jaquet Droz "Tourbillon Skeleton Sapphire"
Jaquet Droz has launched a new strategy to eliminate the entry class and offer customized unique pieces for each customer. Equipped with a tourbillon at 12 o'clock, this is the only model in the world that further accentuates the skeletonized movement with a sapphire crystal dial. Automatic (Cal. Jaquet Droz 2625SQ). 30 stone. 21,600 vibrations per hour. Power reserve about 7 days. Sapphire crystal (diameter 42 mm, thickness 13.76 mm). Water resistant to 3 ATM. Limited to 1 piece worldwide. Price.
Contact info: Jaquet Droz Boutique Ginza Tel.03-6254-7288