"The Citizen" has expressed many traditional crafts on the dial. This time, no two are the same, and we have announced a limited edition model full of elegance and presence. This model was carefully made one by one in a workshop in Aizu using the technique of sowing sand on black-dyed Tosa washi paper.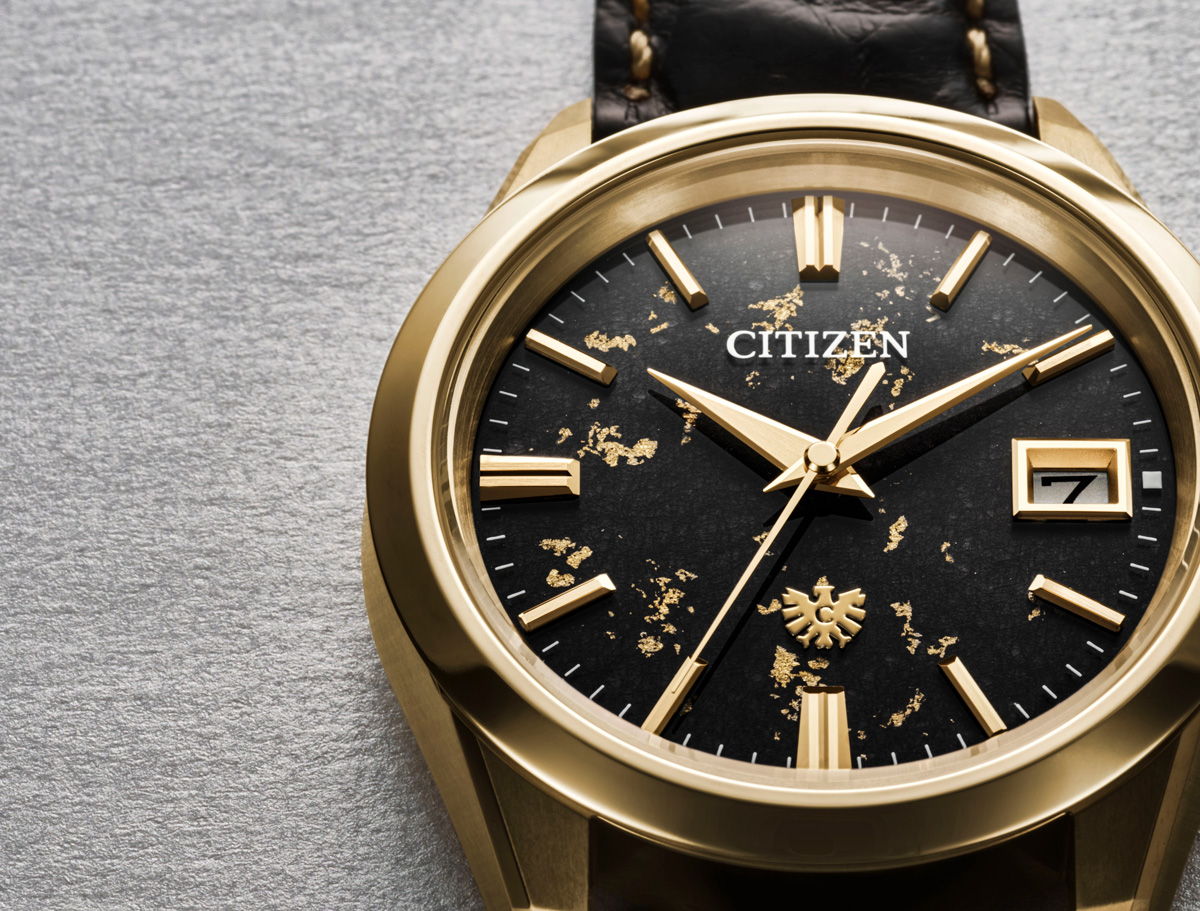 Citizen "The Citizen" High Precision Annual Difference±5 seconds Eco-Drive Limited Edition
Photovoltaic eco-drive. Power reserve about 1.5 years. Super titanium case (diameter 38.3 mm, thickness 12.2 mm). Water resistant to 10 ATM. 418,000 yen (tax included).
The fragility and technology that allows you to feel the root of the Japan's aesthetic sense
Some of you may have never heard the word "Sunako" before. However, many of you may have said it at least once. Think of the song of Tanabata. It is a phrase "Twinkle stars, gold and silver sand". That "kingin sunago" referred to a traditional craft called "sunako". It is known not only as lacquerware but also as a technique of Japan painting.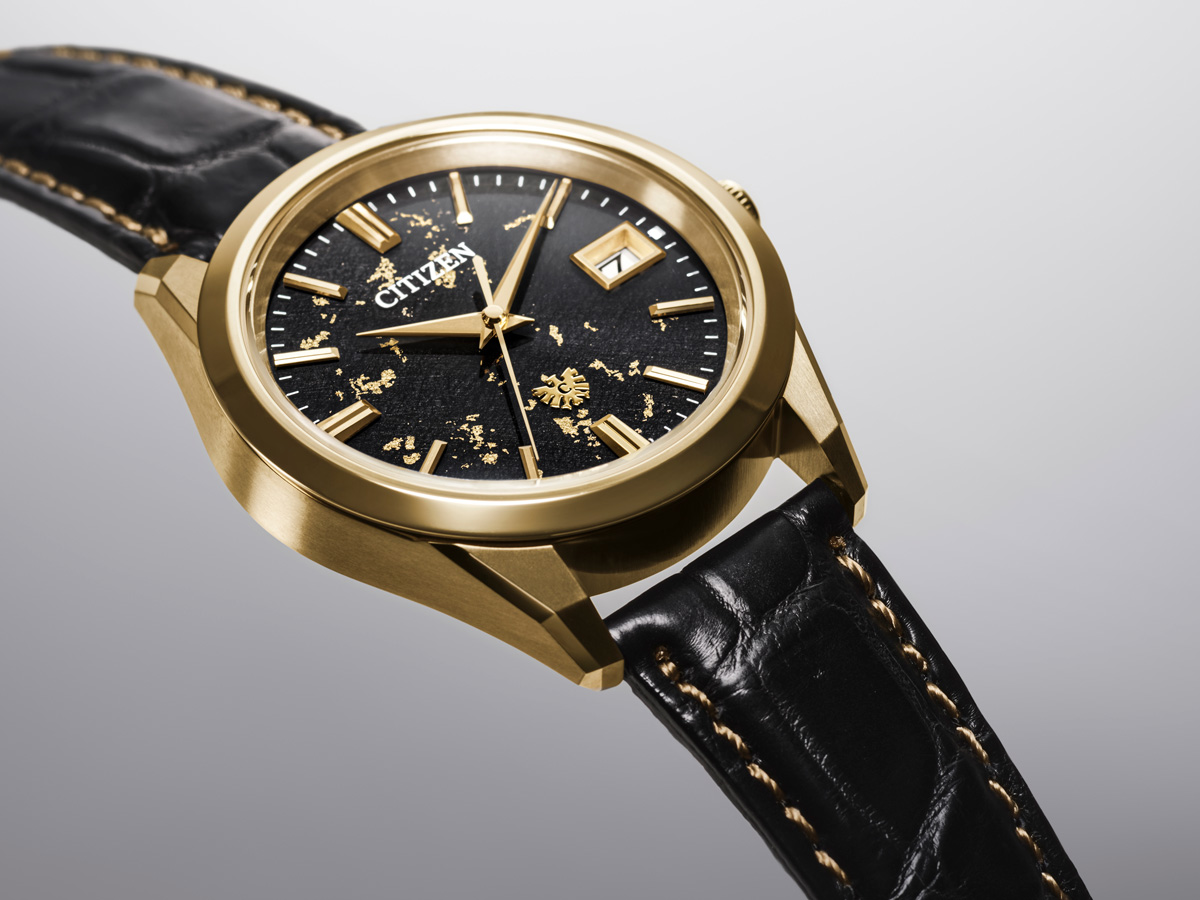 The contrast between black and gold creates both glamour and chic presence. The dial part is Tosa washi paper, and the technique of sowing sand is used on it.
In this work, Tosa washi dyed black, gold leaf from Kanazawa, which boasts a history of more than 400 years and boasts high quality, and the technique of "sand-sowing (sand-sowing)" is used to put sand-like gold and silver leaf into a tube cultivated in the Aizu painting process and shake it on the paper. This one-of-a-kind dial was created by combining traditional materials and technologies spanning all over the Japan, as well as advanced technologies such as "eco-driving". Tosa Washi is made by the Kochi Prefecture workshop Hidaka Washi, and the process of placing the foil on the dial is a collaboration with the long-established lacquer store Sakamoto Otozo Shoten in Aizuwakamatsu, Fukushima Prefecture.
Realization of a dial that can transmit light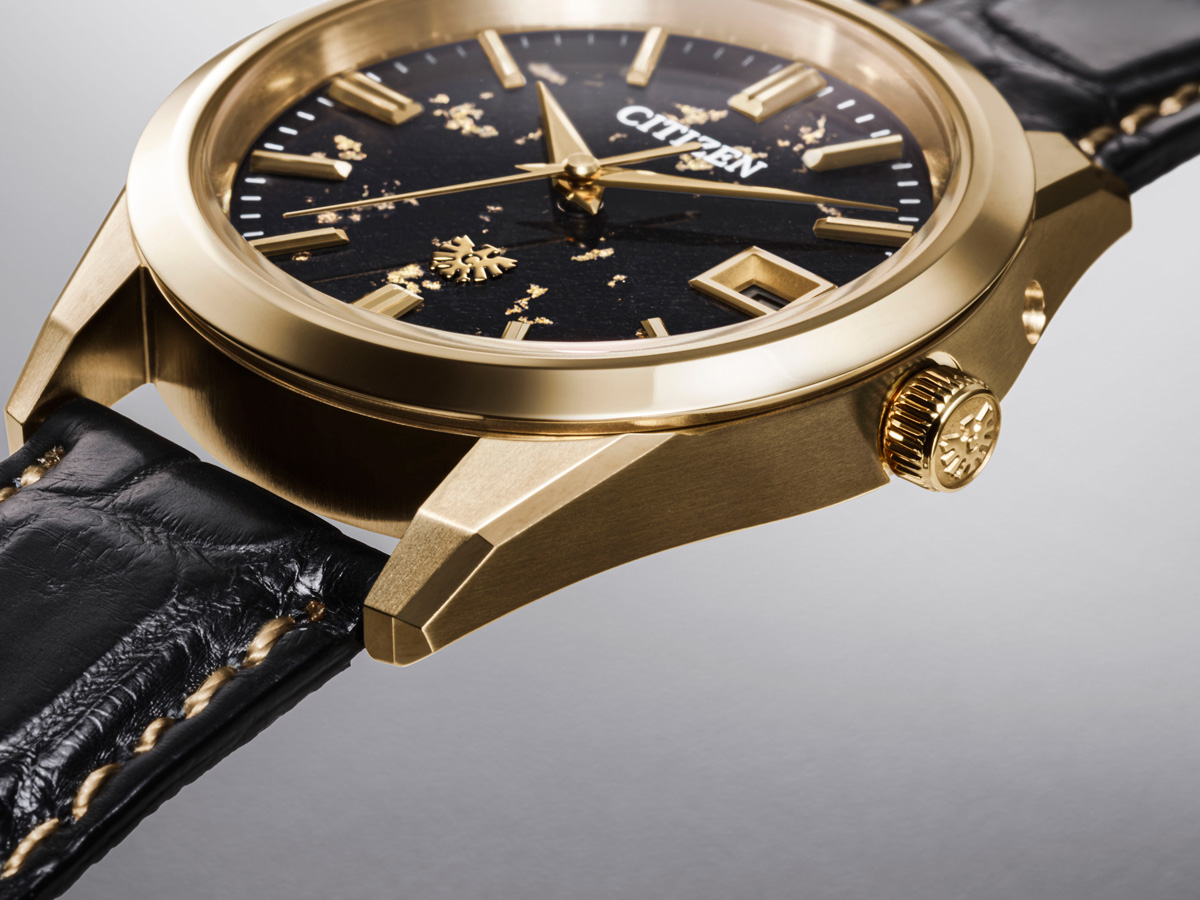 You can feel the texture unique to washi paper. You can discover different expressions every time you change the angle, and it seems that you can become the center of conversation even on overseas business trips.
"Eco-Drive", which uses light as energy to drive, needs to ensure the light transmittance of the dial. The black washi paper used this time is a material and color that does not have very good light transmittance. In addition, since the foil is scattered on the dial, it was necessary to pay more attention to the transmittance than usual. Taking these conditions into account, gold ore was imagined as the ideal dial for this work. Gold ore is an ore mined in gold mines that contain natural gold in patches, and an exquisite amount of gold leaf is placed in a tube once, sprinkled on a flat plate, and then placed one by one with a brush. This is a very time-consuming and skill-intensive method, and at the same time, a sense of placement is also required. After that, after a steady process of measuring the transmittance of the washi dial one by one, this dial was completed.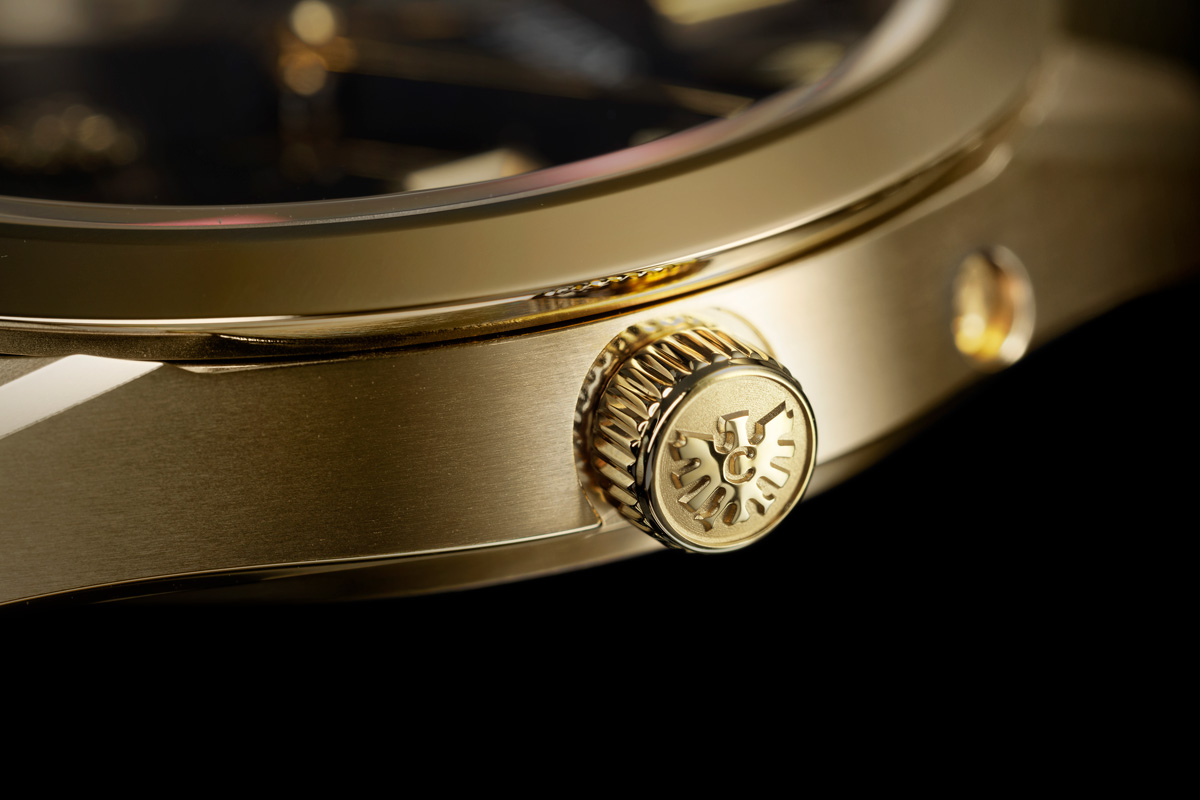 Gold super titanium ™ is used as the case material, making it comfortable to wear and gorgeous, and the Duratect Gold coating ensures a long-lasting shine.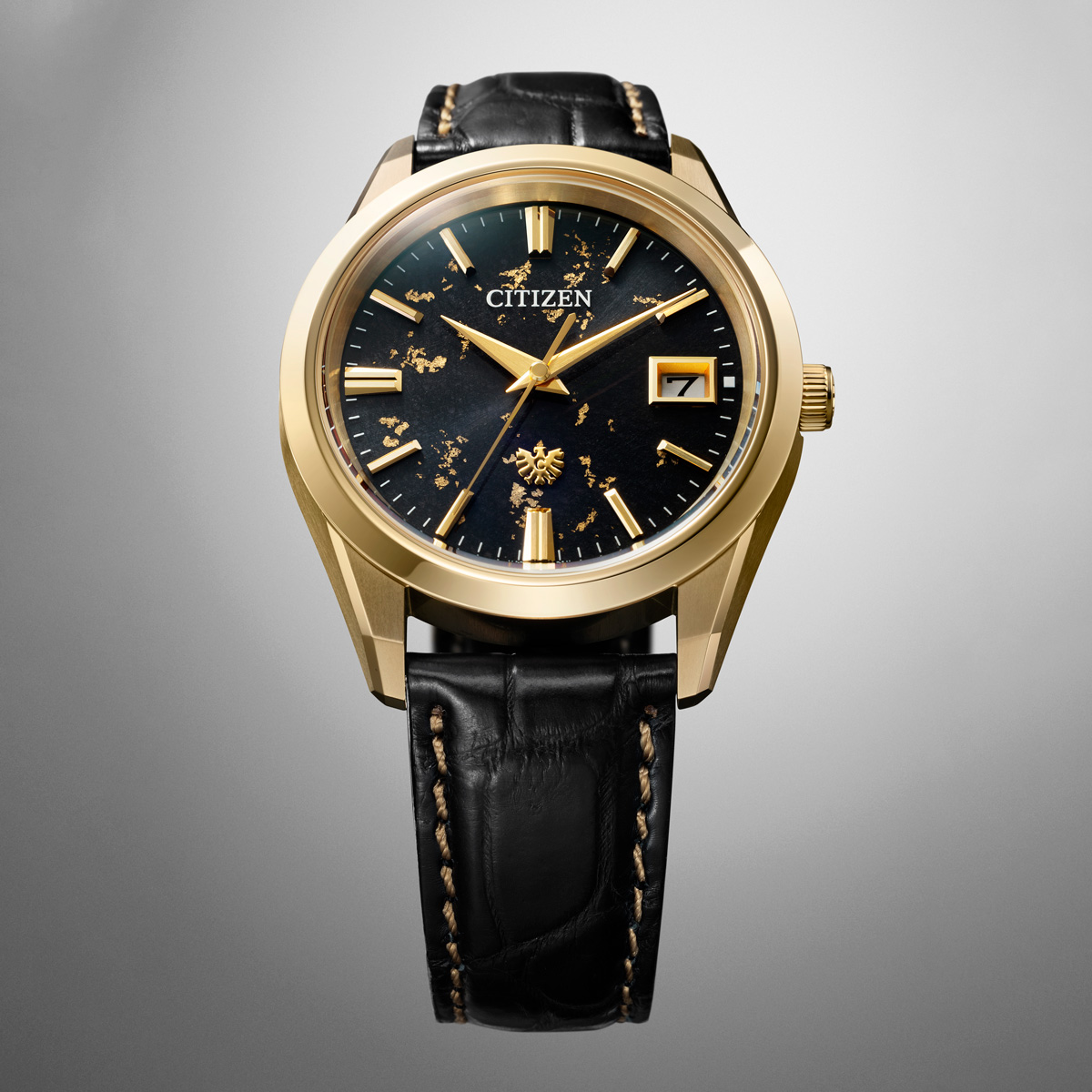 The Super Titanium ™ case is matched by a black crocodile leather band, but the stitching is also gold-colored for a more cohesive feel.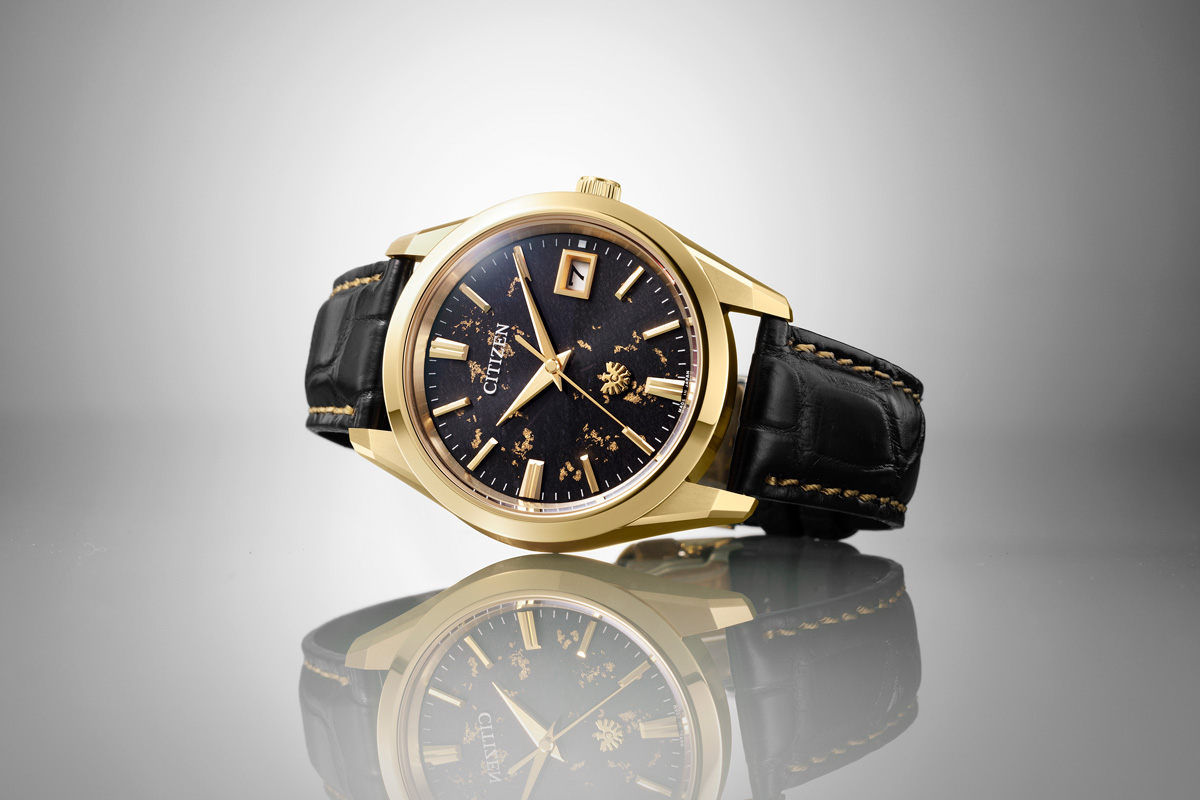 It is equipped with a movement that does not require regular battery replacement, which is one of the features of the photovoltaic power generation eco-drive, and boasts a high accuracy of ±5 seconds per year. As a function of the clock, it is practical with a perpetual calendar and a 0:00 just calendar update function.
Citizen's unique Super Titanium ™ is about 40% lighter than stainless steel, five times harder, rust-resistant, and skin-friendly, making it the perfect material for watches. The limited edition model of "The Citizen", which has various functions in practical terms and has various visual ingenuities, is sold in a limited edition of 350 pieces worldwide, and the limited edition number is engraved on the back case.
It will be available only at the following specific stores. I want to choose a special one with the expression of each foil.
"Citizen Flagship Store"
https://citizen.jp/flagshipstore/index.html
"Citizen Premium Doors"
https://citizen.jp/premiumdoors/index.html
"Citizen Concept Shop"
https://citizen.jp/conceptshop/index.html
Contact info: Citizen Customer Consultation Office Tel.0120-78-4807