Looking back on the history of Montblanc and watches
Montblanc has its roots in the Simpro Filler Pen Company, which was founded in Hamburg, Germany in 1906 as a manufacturer of writing instruments, and in 1924 created the masterpiece of fountain pens, the Meisterstück, and the company changed its name to Montblanc 10 years later. Since then, it has firmly established itself as a prestigious Maison for writing instruments and leather goods.
Montblanc entered the watch business in 1997. He set up a watchmaking workshop in Le Locle, Switzerland, called Montblanc Monterey S.A. In 2007, Minerva, a prestigious long-established company with a history of more than 150 years, became part of the Richemont Group and began developing watches in collaboration with Montblanc, also part of the Group.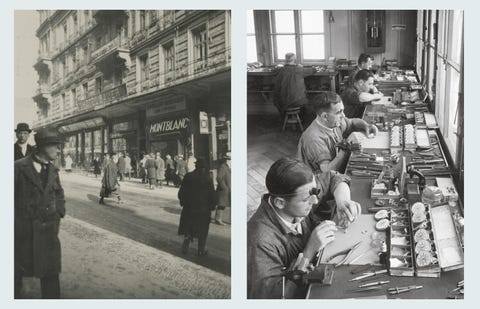 Montblanc
Montblanc absorbed the know-how of a prestigious company that manufactures its own movements and became a manufacture. In addition to classic and simple models that stand out for their elegance, such as "Star Legacy" and "Tradition", we have developed a variety of collections such as the "1858" series with an outstanding antique feel. About a quarter of a century after entering the watch industry, it is classified as a relatively young brand, but it has become a respected presence among watch enthusiasts.
The 2023 model is well received. The momentum doesn't stop
Left: Montblanc 1858 Icesea Automatic Date Boutique Limited. It features a green glacier dial that gives the impression of looking into the depths of the glacier's ice. Right: Montblanc 1858 Icesea Automatic Date. The grey glacier-patterned dial is inspired by the ice of Mer de Grasse, one of the largest glaciers in the Mont Blanc Mountains.
Montblanc
Montblanc has a collection full of unique "uniqueness" for the new model of 2023. The model, which pays homage to the brand's identity, was also highly acclaimed at the Watches & Wonders Geneva 2023 luxury horological fair.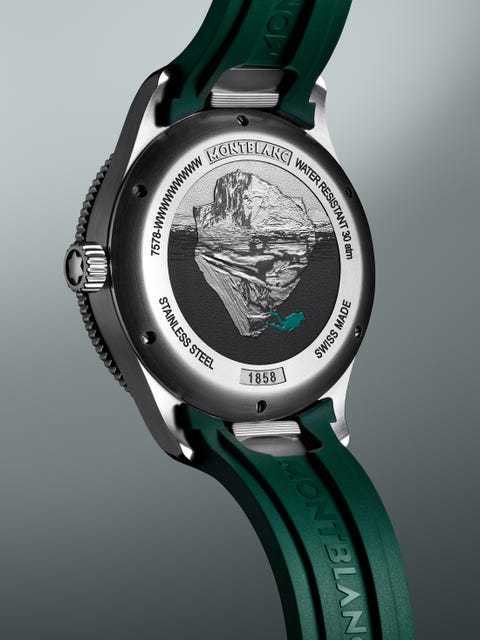 On the caseback is a large green scuba diver drawn in 3D engraving.
Montblanc
Among them, I would like to introduce the "1858 Ice Sea" collection here. The refreshing dial is inspired by the glaciers of the Mont Blanc Mountains. The glacier, which shows various colors such as gray and green due to the power of nature, is projected on the 41mm dial.
The collection has undergone Montblanc laboratory tests to ensure that it is shockproof, magnetic resistant, temperature and waterproof (approx. 30 bar) and that the fasteners are reinforced. In addition, the interchangeable SS bracelet allows you to change to a rubber strap without having to visit boutiques or even use tools.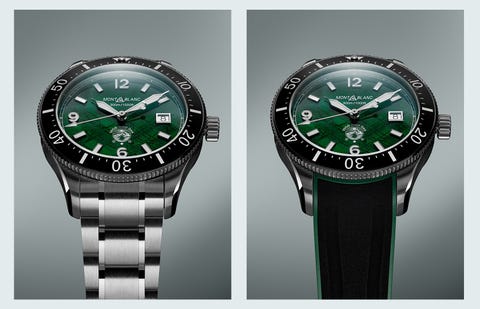 The boutique exclusive comes with a replaceable strap.
Montblanc
By the way, a great campaign will also start
From Wednesday, July 5 to Sunday, July 30, 2023, the MONTBLANC TIMEPIECE CAMPAIGN WILL BE HELD. At Montblanc boutiques and authorized Montblanc watch retailers (excluding outlets) nationwide, buyers of Montblanc watches (excluding smartwatches) will receive a Montblanc Watch Cushion Pouch as a gift. It will end as soon as it runs out, so if you are interested, please do not do it. For details of eligible stores, please contact the official website or Montblanc Customer Support.
– – – – – – – – – –
Montblanc 1858 Icesea Automatic Date
Ref.:130793
Movement: Self-winding, Cal.MB24.17/SW200
Power reserve: approx. 38 hours
Case Diameter: 41.0mm
Case Thickness: 12.9mm
Case: SS case (polished and satin)
Strap: SS (tapered and replaceable)
Water resistance: Approx. 30 bar (300m)
Price: 454,300 yen
Montblanc 1858 Icesea Automatic Date Boutique Exclusive
Ref.:130810
Movement: Self-winding, Cal.MB24.17/SW200
Power reserve: approx. 38 hours
Case Diameter: 41.0mm
Case Thickness: 12.9mm
Case: SS case (polished and satin)
Strap: SS (tapered and replaceable), black rubber (replaceable)
Water resistance: Approx. 30 bar (300m)
Price: 498,300 yen
– – – – – – – – – –
●Inquiries
Montblanc Customer Support
TEL/0800-333-0102 (Weekdays 9am~7pm)
Official site