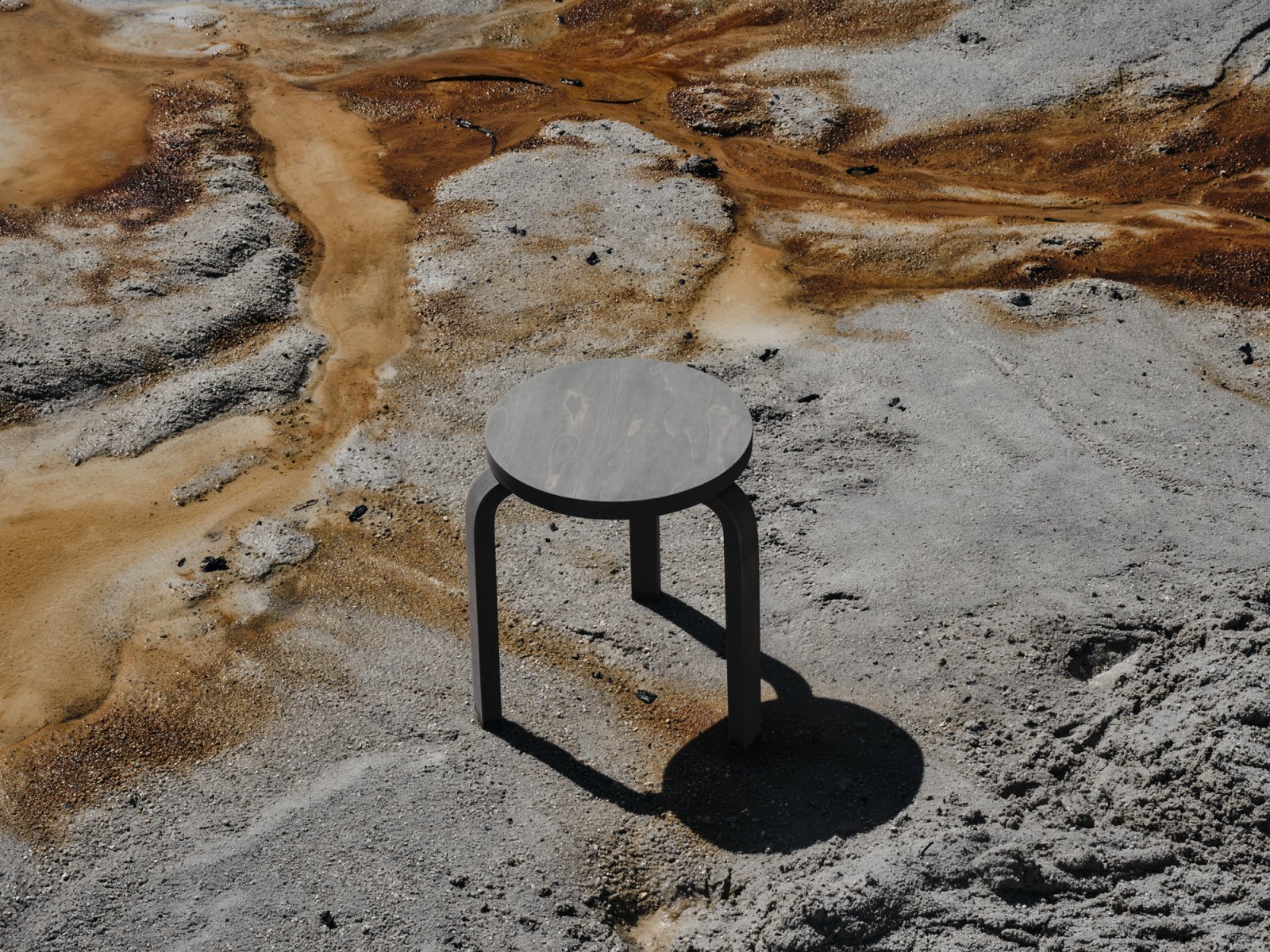 The production is supported by the brand "Minosoyl", which disseminates the potential of soil in Mino, and the plant professional group "Soluso". Of the six colors announced at Dover Street Market Ginza, a total of 90 pairs of three colors, black, yellow, and white, are on sale at the Artek Tokyo store in Omotesando and online from April 26. ¥121,000~
In mid-March, the Tower of "Stool 60" appeared at Dover Street Market Ginza in Tokyo. Alvar Aalto's famous design and iconic three-legged stool stood on top of each other as if stretching vertically. The space was designed by architect Tsuyoshi Tane. With the instaple, which evokes the Finnish forest, Tane unveiled the 90th anniversary model "Stool 60 Sleeping Beauty" in collaboration with Artek.
"It is not easy to continue to make the same stool for 90 years: the wood that is the material, the forest that nurtures it, the manufacturing that creates one leg through many processes, and Aalto's universal design. We paid tribute to everything and reminded ourselves of a stool that becomes even more attractive over time."
Tane tried to put the unpainted seat and legs to sleep in the dirt.
In France, where he is based, he repeatedly experimented with steaming and baking stools for about half a year, and found an approach to sublimate traces such as place and time into new expressions by burying them in the soil. We also conducted a series of studies in which water was given to maintain moderate humidity. In order to commercialize it, several types of soil were collected in Japan, and finally six types were completed. They wear different colors depending on the composition of the soil, such as black that feels the depth of ink and vermilion that looks like it is impregnated with red clay.
"Soil is a mixture of stones and dead plankton accumulated over many years, and it contains nutrients for the growth of trees, and is inseparable from the wood from which stools are made. Just as architecture is inseparable from the land and its memory."
Tane's archaeological perspective always gives a fresh charm to "antiquity".
"Stool 60 S leeping B eauty"
Contact: Altec
TEL:03-6427-6615
Related Posts
Returning to the bathing habits of Japan, the beautiful bath culture brand "Sukuna"
"Original" with originality and influence, exploring timeless and fundamental design in "The Original" exhibition
*This article has been re-edited from the June 2023 issue of Pen.
—fadeinPager—
【Image】"Stool 60″ buried in the soil, limited edition model celebrating Japan 90th anniversary