PR:CITIZEN
The latest creation from The Citizen shows how serious you are about mechanical watches
In 2021, Citizen completed its first mechanical movement, the Cal.0200, in nearly 11 years. The 0200, which was produced to the fullest, debuted on The Citizen, which embodies the company's ideal. And now, the latest work has appeared.
The Citizen Mechanical Model Caliber 0200 Limited Edition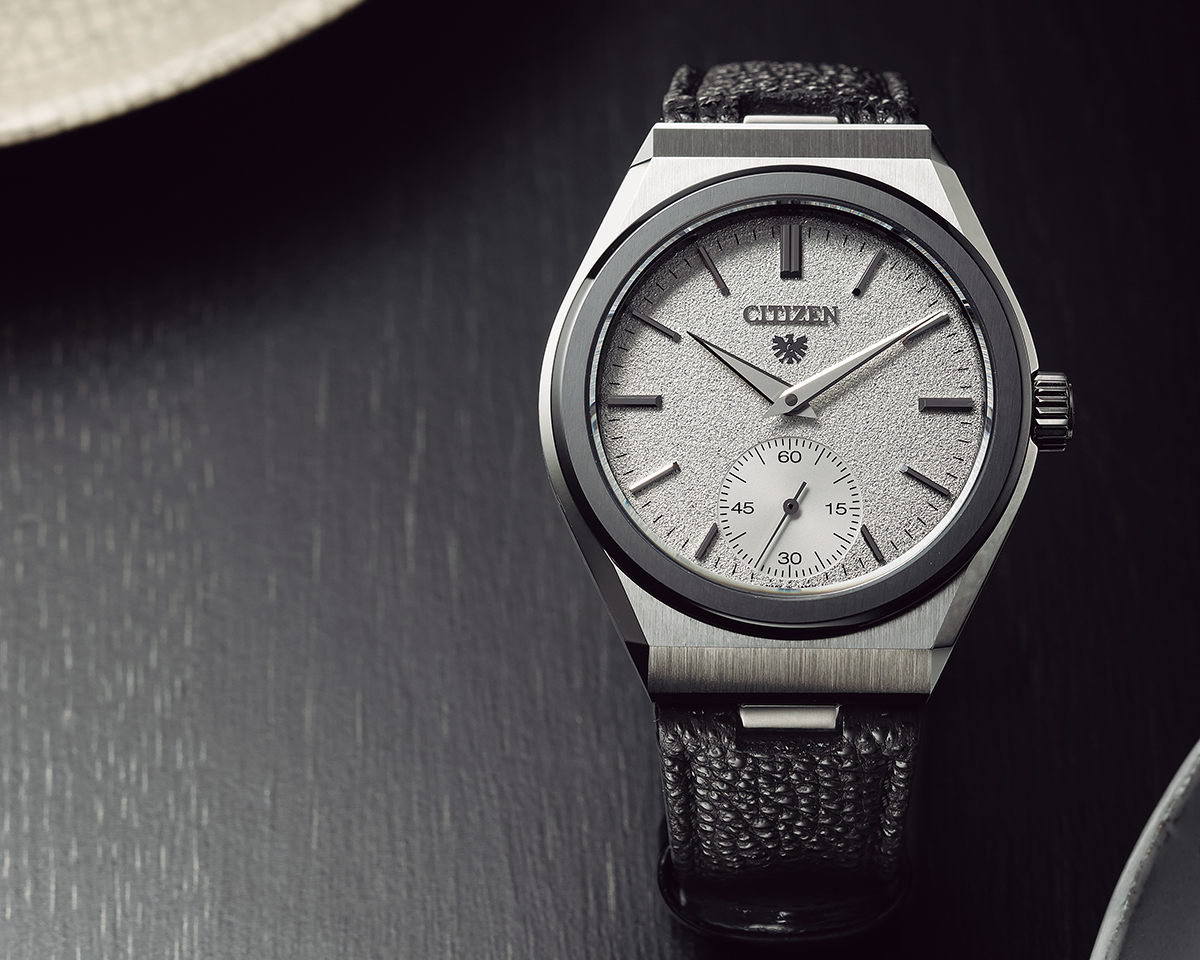 The combination of a pure white dial finished by the electroforming method and a zirconia ceramic bezel with a beautiful black color and high hardness creates the latest mechanical model Caliber 0200 with a beautiful contrast. Limited to 200 bottles worldwide, it will be available only at Citizen flagship stores, Citizen Premium Doors, and limited stores.
■Ref.NC0207-07A。 SS× zirconia ceramic bezel (40mm diameter). Water resistant to 5 ATM. Automatic (Cal.0200). Limited edition of 200 pieces. JPY 1,045,000
When commenting on a watch manufacturer called Citizen, "high technical capabilities" is almost always mentioned. This is largely related to the fact that the predecessor of the company was the Shokosha Watch "Research Institute" that was established in 1918 with the aim of domestic production of watches, but above all, it has a track record of constantly making corporate efforts and creating many innovative technologies in the more than 100 years since then.
Especially since the 70s, he has actively incorporated advanced technology and searched for new forms of wristwatches.
As a result, we completed an analog solar cell clock in '76 and an analog multi-hand radio wave clock with multi-station reception in '93, and we are still showing a large presence as a leading company in the field of "photovoltaic radio wave clocks."
While dominating the market with photovoltaic radio wave watches, we have continued to develop and manufacture "mechanical" clocks and have cultivated technology, which gives us a strong sense of pride as a "watch manufacturer." Then, in the 2010s, Citizen began to make a name for itself again in the mechanical field. A major turning point was the arrival of La Joux Perret of Switzerland into the group in 12 years with the aim of further improving technology.
Combining the watchmaking technologies of both Japan and Switzerland, in 21 years we finally completed the next generation of our own automatic movement, calibre 0200. It was installed in the company's flagship brand The Citizen and made a spectacular debut.
And now, the latest product is this one, where the combination of a pure white dial and zirconia ceramic bezel creates a beautiful contrast. It is an attractive one that pursues the essence of a watch such as precision, quality, and design, and embodies Citizen's ideal of staying close to the wearer for a long time.
[Check the details & fit! ]】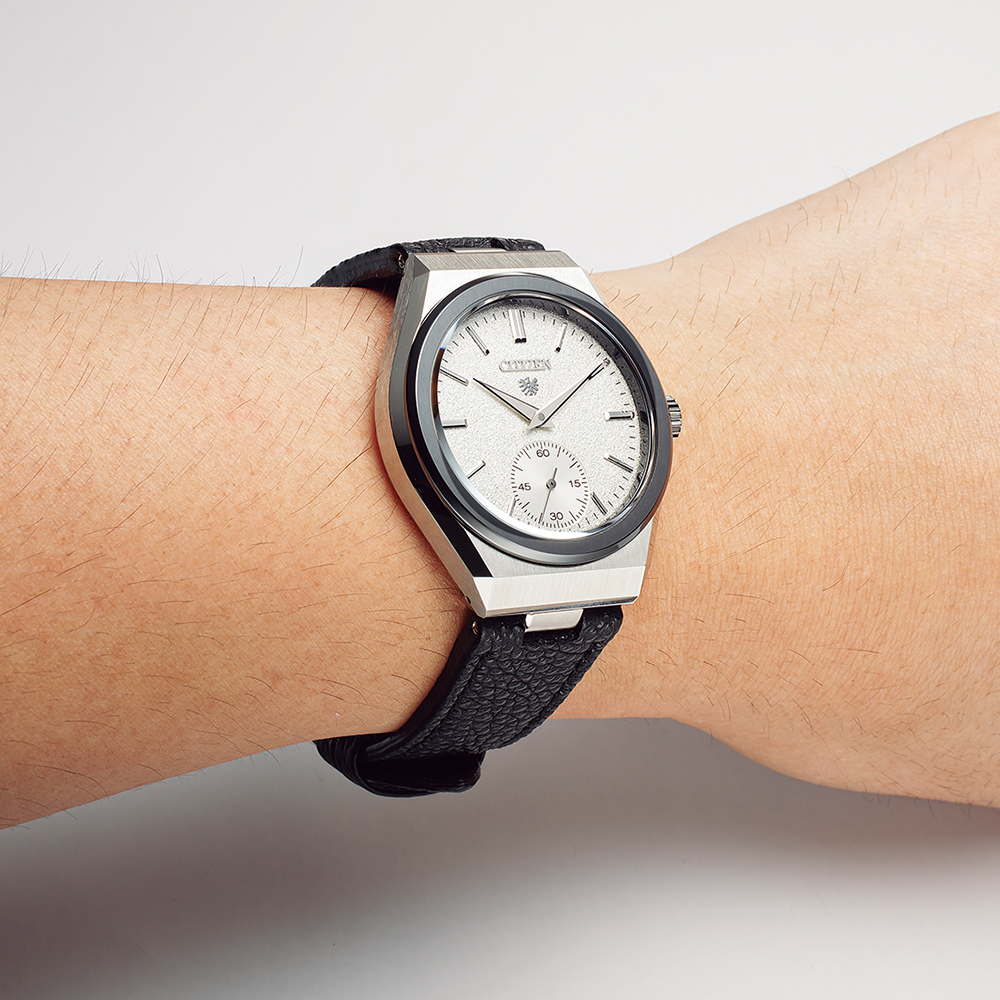 The case diameter is 40 mm, which is a good size. The belt made of Himeji black pier leather has a moderate thickness, and the balance when wearing it is good, realizing a comfortable fit.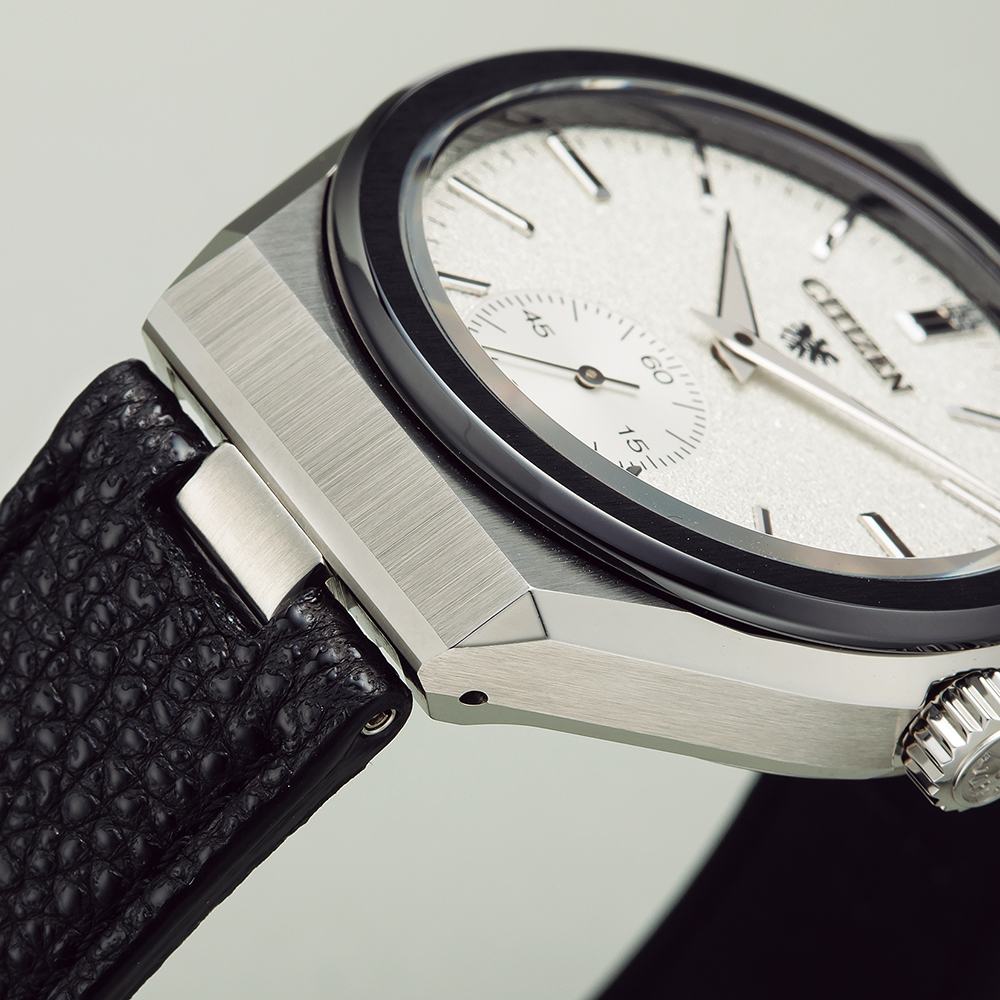 Rug-free case design. This case has a multi-sided structure and is characterized by a shape that is dressed in the atmosphere of an industrial product. In addition, by polishing it separately with hairline and mirror processing, it emphasizes sharpness and luxury.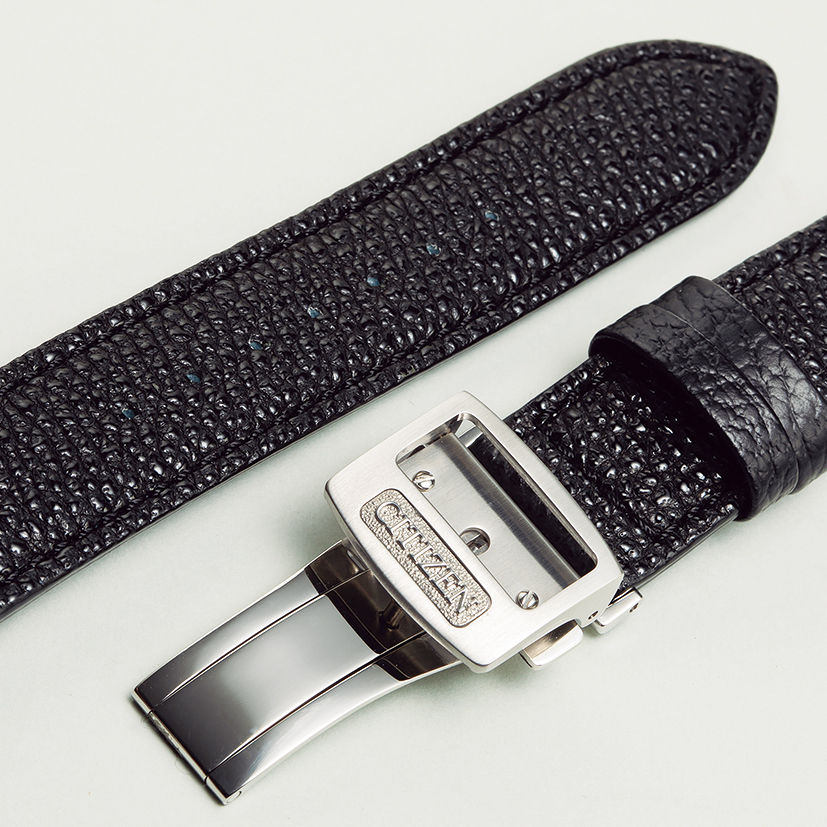 The belt made of Himeji black leather is created by manually lacquering the grains, drying and painting, and is attractive for its deep black luster and volume. It has a beautiful texture as if it were scattered with countless small diamond grains, and has a sense of luxury.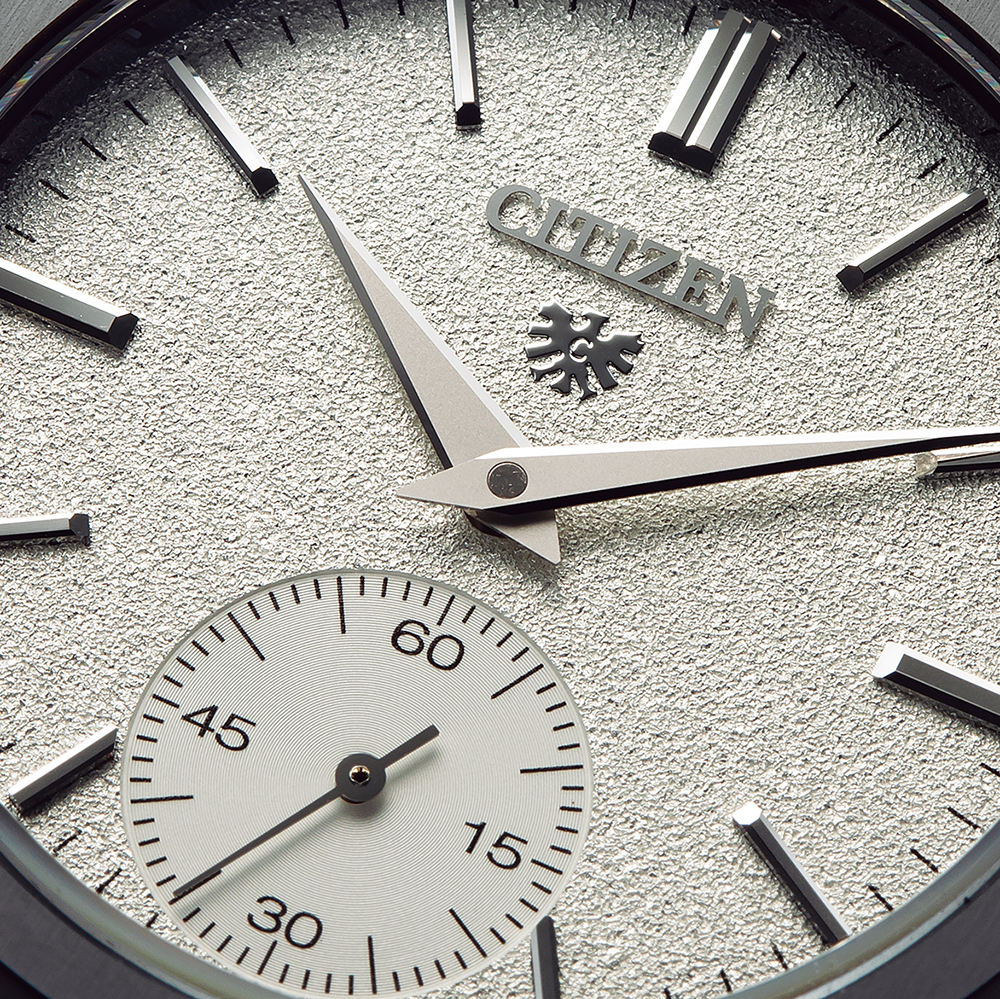 The pure white dial with a sandy pattern using the electroforming method is also a point that emphasizes the individuality of this work. By adding unevenness to the dial surface, a very rich expression is created. In addition, the thick and long needle is also three-dimensional, giving it a sense of luxury.
[New mechanical movement introduced in 2021]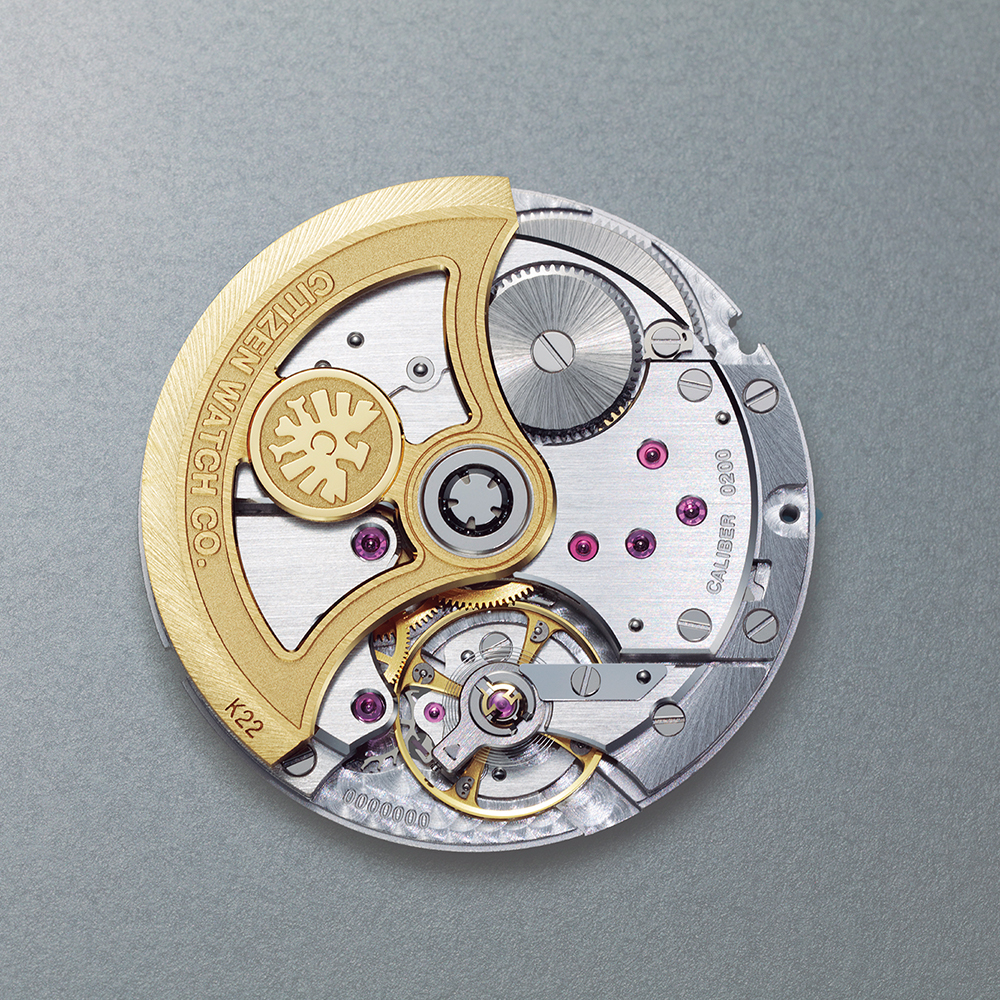 An escapement formed using the LIGA method cultivated in device manufacturing. By improving the machining accuracy of each part, the transmission efficiency is improved and better accuracy is achieved.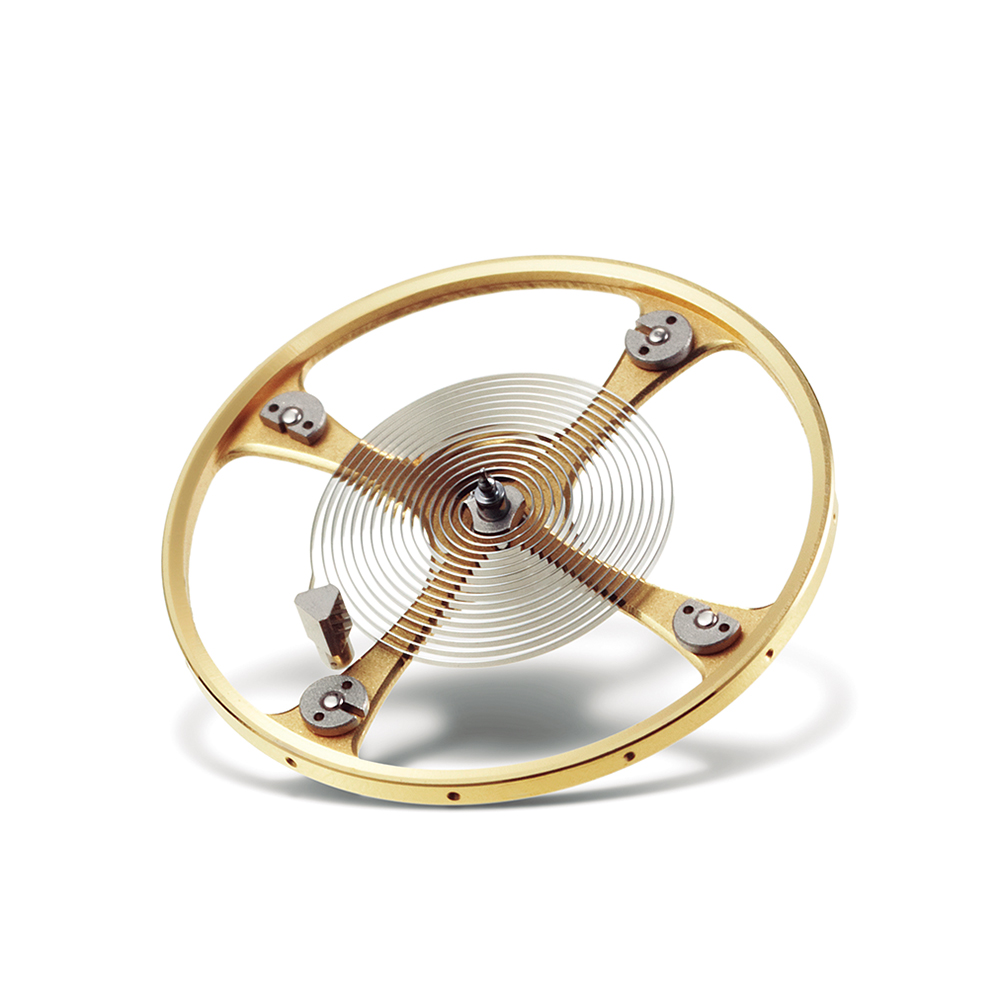 By rotating a small weight placed on the balance, a free-sprang system is used to adjust the lag. By the way, it seems that Tenwa is also made by Citizen.
【Contact】
Citizen Customer Watch Consultation Room
TEL.0120-78-4807
Official site
https://citizen.jp/the-citizen/
Text ◎ Horiuchi Daisuke (Editorial Department) / Photo ◎ Mizuhashi Takayuki
[Check out other news! ]】
■【Lots of traditional Japanese crafts!】 A gorgeous dial with gold leaf on black washi paper, the limited edition model of "The Citizen" is beautiful
■[Citizenrevivesthehiddenmasterpiecewatch"SporteMS"ofthe1980s]Record label's latest model starts pre-orders
■[Citizen starts selling mechanical watches popular overseas]The latest piece of the Citizen collection with an eye-catching colorful dial for less than 100,000 yen