Kuro no Pisu, a watch enthusiast representing Japan, introduced the charm of Audemars Piguet's "CODE 11.59 by Audemars Piguet Tourbillon Openwork" that he owns. From the greatness of designing and developing a movement specifically for skeletons to Audemars Piguet's attitude toward finishing that has not changed over the years, he talks about his unique insights that have supported and observed the company's watches.
Kuro no Pisu: Sentence
Text by chronopeace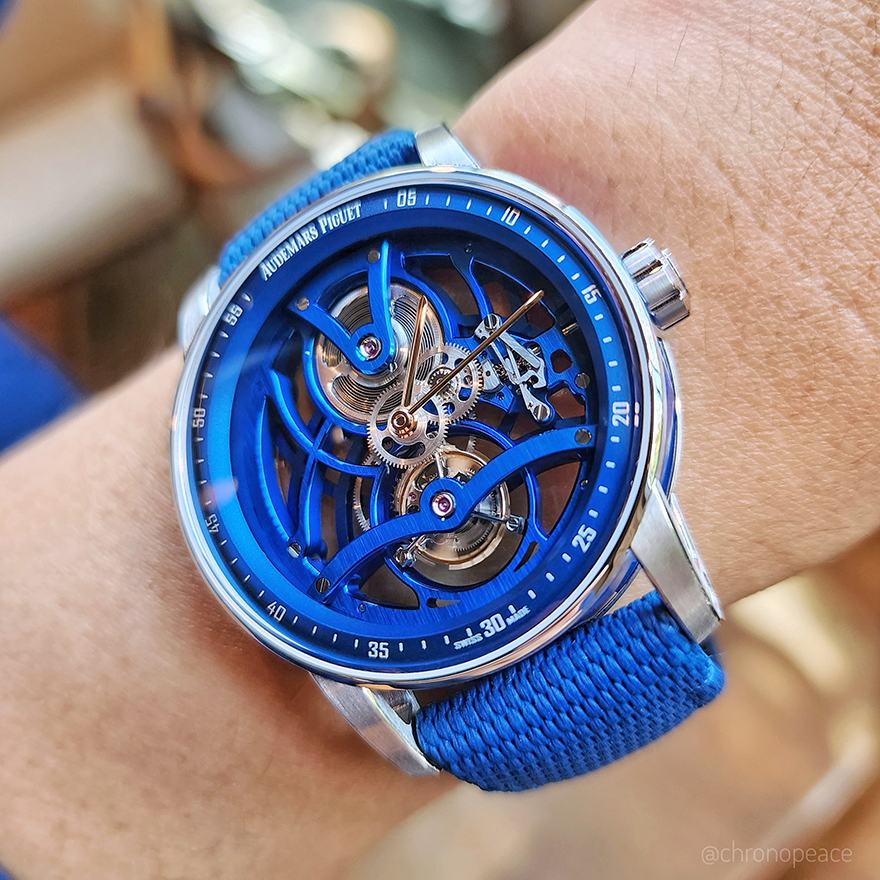 CODE 11.59 by Audemars Piguet Tourbillon Talking about open work from the owner's point of view
We are sorry. This is the Kuro-no-Pisu of watch lovers. This time, the series "Telescope" on webChronos, which was discontinued in one episode two years ago, has been revived brilliantly. In the future, we will introduce various watches, including those on hand, while keeping the original purpose intact.
This time, which is the anniversary of the revival, this is limited to 50 pieces in the world. Since there are only a few bottles in the Japan, you will not have a chance to see Audemars Piguet's "CODE 11.59 by Audemars Piguet Tourbillon Openwork".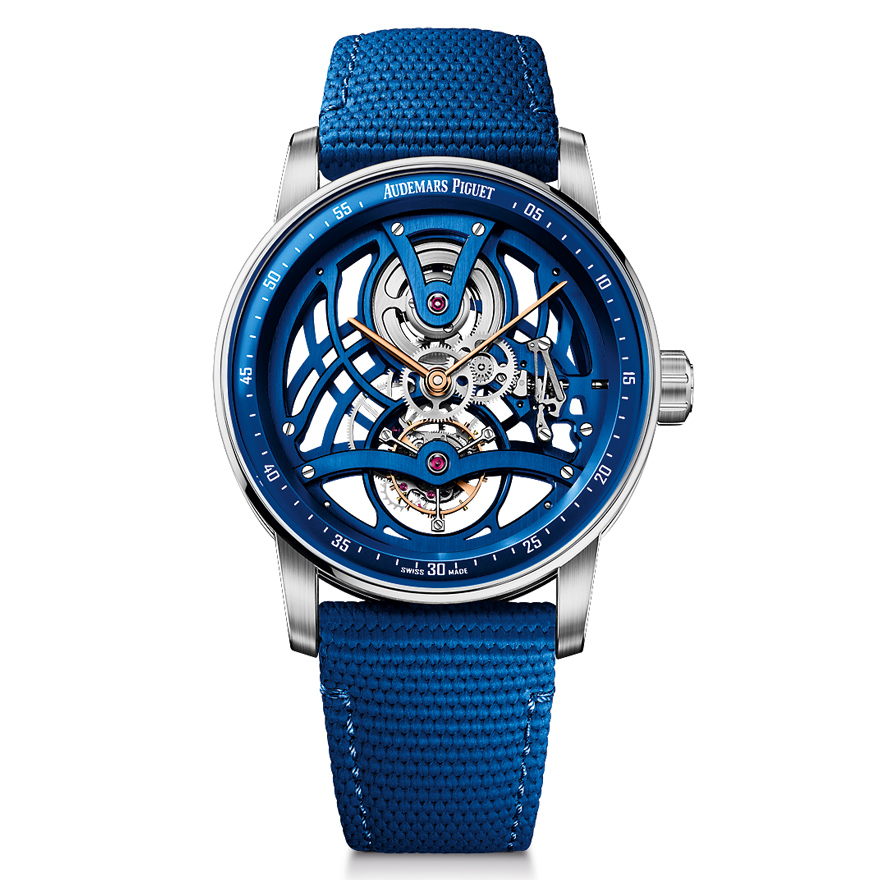 Audemars Piguet "CODE 11.59 by Audemars Piguet Tourbillon Openwork"
Manual winding (Cal. 2948). 19 stones. 21,600 vibrations per hour. Power reserve about 72 hours. 18KWG × blue ceramic case (diameter 41mm, thickness 10.7mm). Water resistant to 3 ATM. Limited edition of 50 pieces worldwide. Price inquiry.
A symmetrical movement born as a skeleton
The CODE 11.59 skeleton tourbillon is a masterpiece of Audemars Piguet's (AP) warmth and wisdom while pursuing the utmost simplicity. The main difference from the skeleton watches you usually see is that the movement itself was created for skeletons.
When a general-purpose movement is made into a skeleton, the arrangement of the barrel and wheel train cannot be changed, so naturally the "show" and "fascinating" methods are limited. Therefore, when I become more discerning, I feel that all skeleton watches that cost less than a few million yen "feel like I saw them somewhere."
However, the Cal.2948 featured in the game was developed with skeletons in mind from the beginning. The price has exceeded 30 million yen for a two-hand watch, but by the time you finish reading this article today, more people will be convinced by that amount.
When I was invited to Audemars Piguet's Swiss headquarters in June 2022, I was fortunate enough to have the opportunity to tell the story behind the development of the Cal.2952, a version of the movement with the addition of a flyback chronograph, to the development department of Audemars Piguet Locle (formerly Renault & Papi), which develops complications.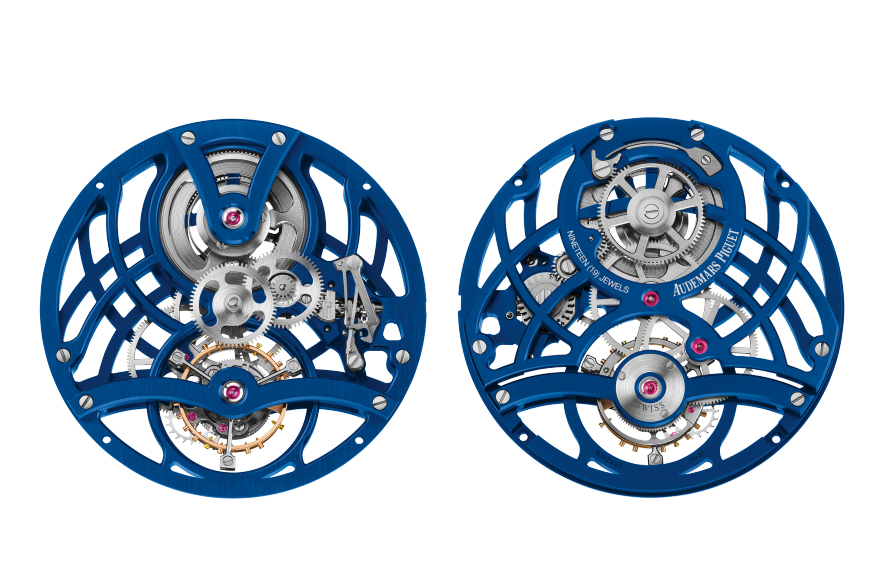 According to the developer, it is extremely difficult to design the movement of a watch symmetrically and move it properly. In a wristwatch, there is basically a wheel train centered on four gears, including a barrel, but there is a limit to the arrangement and size of the minute and second hands due to the combination of gear ratios in order to turn the minute and second hands.
Keeping it as symmetrical as possible and making it look beautiful on a skeletonized premise means that it takes an enormous amount of time to achieve practicality.
The number of parts is 196, which is the same as that of a standard tourbillon, but in Cal.2948 you can see that the wheel train is arranged three-dimensionally and thinly finished, fitting beautifully into the almost vertical centerline.
If you look closely, the bridges that support and place these gears do not use a single straight line. The core parts are the barrel and tourbillon, and the bridge is composed of a minimum number of arcs that radiate out like ripples on the surface of the water.
Nevertheless, the bridge on the back side is composed of arcs of a different diameter from that on the front side, and it is fascinating to see the expression as if they intersect three-dimensionally without interfering with each other.
In addition, the fact that the tourbillon bridge, which looks like a human beard seen in older models such as the Edward Piguet, is so strong from 4 to 8 o'clock that I call it a skeleton watch that combines AP's warmth and innovation.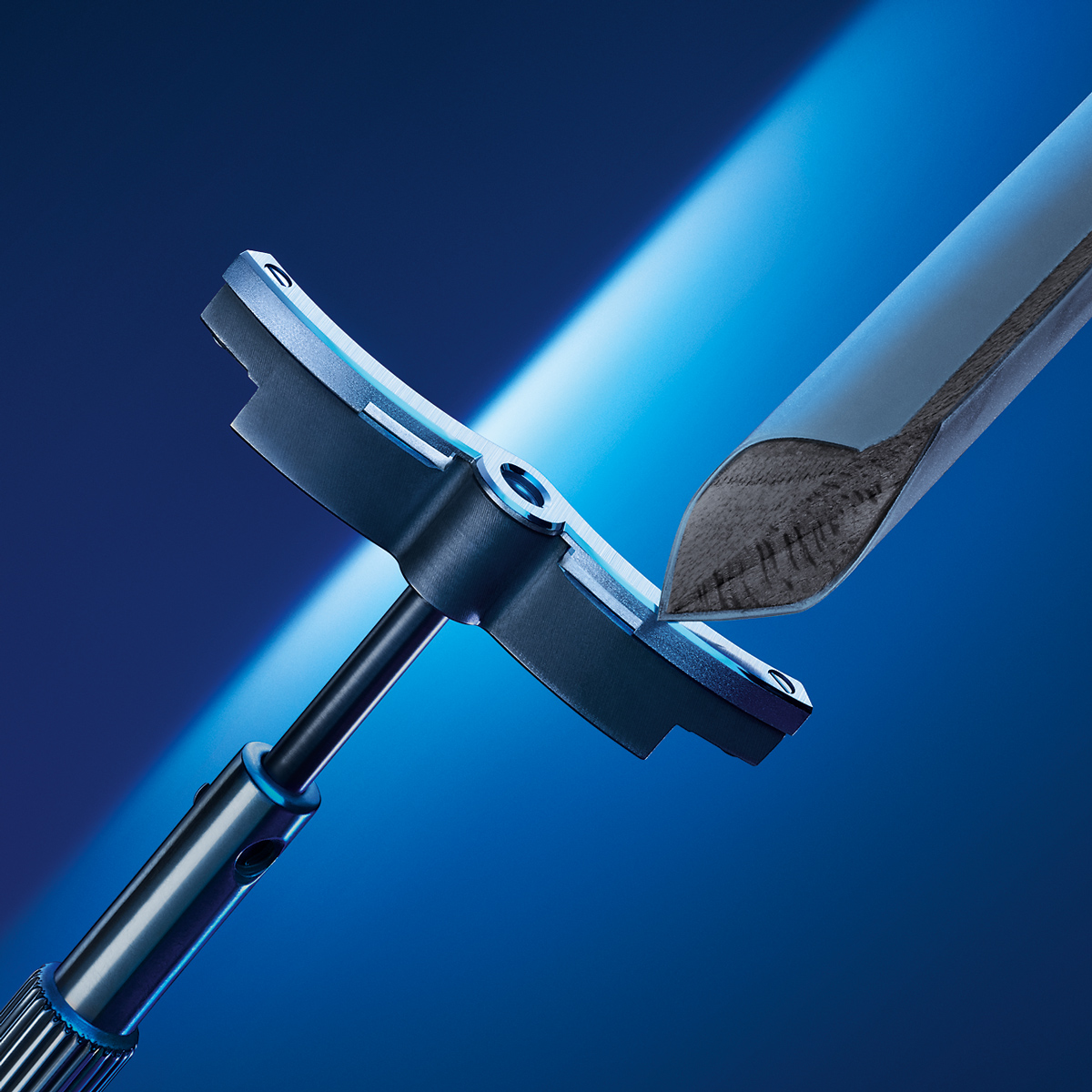 CODE 11.59 CASE WITH ENDLESS POSSIBILITIES
If you actually look at past AP skeleton watches, you can see that their essence has not changed. However, what makes modern works very different is that they generously incorporate modern methods, processing, and materials.
BEST OF ALL, THE CODE 11.59 CASE HAS THE POTENTIAL TO BE ARGUABLY THE LARGEST IN AP HISTORY. Modern cylindrical case with a diameter of 41 mm and a thickness of around 14 mm. In other words, it is extremely space-efficient.
As proof of this, the CODE 11.59 by Audemars Piguet Ultra Complications Universel RD#4, which I booked when I visited the head office last June, has 1155 parts in a CODE 11.59 case with a thickness of only 15.55 mm.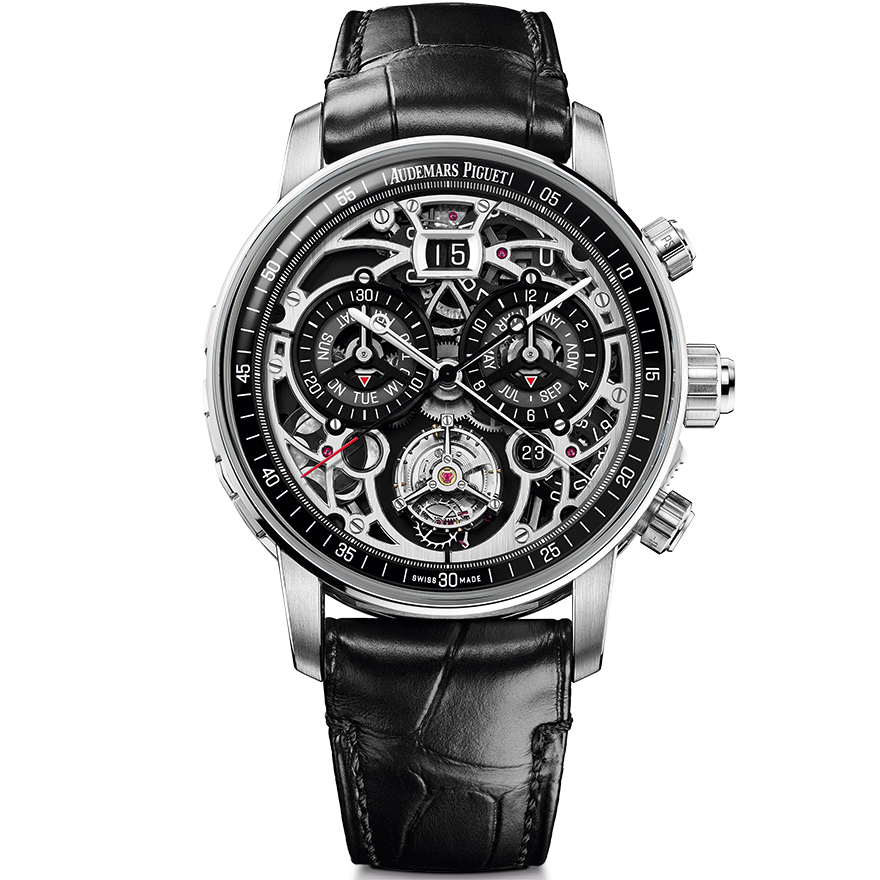 Audemars Piguet "CODE 11.59 by Audemars Piguet Ultra Complications Universel RD#4"
Automatic winding (Cal.1000). 90 stone. 21,600 vibrations per hour. Power reserve about 64 hours. 18KWG case (diameter 42mm, thickness 15.55mm). Water resistant to 2 ATM. Price inquiry.
Naturally, computer simulations were used in the design, but it is nothing short of amazing that any watch professional can achieve such a mechanism in a typical watch size, with all the practicalities and fail-safe mechanisms, including date rewinding.
Therefore, I felt that my prediction that the CODE 11.59 case would be the best canvas for AP to draw freely was correct with the announcement of Universel.
It is difficult to convey in the photo, but not only the case but also the windshield is curved as if drawing an arch from the 12 o'clock side to the 6 o'clock side, and the real thing is a little less formal, even gentle.
It uses a sandwich structure sandwiched between three layers, but this is also difficult to see in the photo, and uses an octagonal middle case that pays homage to the Royal Oak. It is in the photo from the side that you can see the vertical lines on the middle case.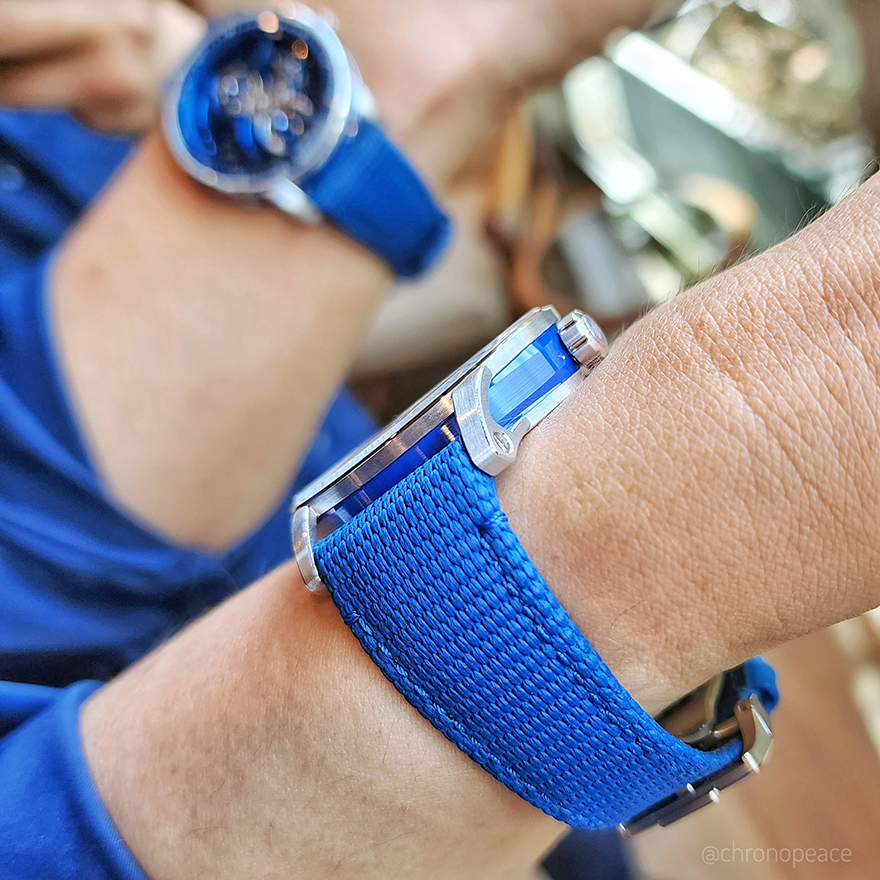 In this model, in particular, the middle case is made of blue ceramics, which are also hairline processed by craftsmen. But maybe it's the AP's policy, or maybe you don't even know that it's octagonal even if it's owned, because the corners are kept to a minimum, and the middle case itself is also chamfered?
If the case content is large, various mechanisms can be installed as mentioned above, but one advantage that most people are not aware of is the high acoustic effect.
In fact, this model of the CODE 11.59 has the largest acoustic space, and the hard angular tick of the tourbillon resonates clearly. I assure you, this model will sound the clearest and most beautiful tick sound in CODE 11.59.