*Click photo to enlarge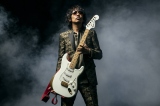 Ken bravely holding up the Ken Stratocaster Experiment #1
Fender Music, which develops the guitar brand "Fender", held the "Fender Autumn/Winter 2022 New Product Exhibition" on the 20th. In the hall, artist models released this summer and the latest series scheduled to be released this winter are lined up.
[Photo]Two Ken signature guitars on display at the event
L'Arc~en~Ciel's guitarist Ken's latest Japanese signature model "Ken Stratocaster Experiment #1" is now available as a special limited model "Limited Ken Stratocaster Experiment #1" (released on October 6th).
The model comes with a certificate signed by Ken, and the neck plate is engraved with the artist logo "CHLion" and the serial number.
In addition, the body is designed from the image of "Kintsugi Japanese pottery" and the neck, which has an original shape named Ken "U", has a lacquer finish that is also used for vintage guitars. The model uses satin polyurethane for the neck and gloss urethane for the body). The capacitor is a Pure Vintage "Hot Rod" Capacitor, .1uf @ 150V, and gold is used for the hanger screw for the spring.
It is also worth noting that this model comes with a white-collar limited hard case. A sample of this hard case was also prepared at the event venue, and the eye-catching white exterior and interior with solid cushioning and gorgeous purple were unveiled for the first time.
"Limited Ken Stratocaster Experiment #1" is only available at the official Japanese online shop.