2022.09.24 NEW PR
introduces dual-time watches in limited-edition colors in Japan!

An exciting timepiece that will make you feel like traveling on holidays!
Speaking of ragspo watches, the one that comes to mind first is the masterpiece "BR 05". The functionality and sophisticated design that reminds you of an aviation instrument will upgrade your everyday outfit just by wearing it. From that luxury watch, a model with an amber dial in a Japan-only color has appeared! In addition, it has a GMT function that allows you to see the time at two different locations at a glance. Just looking at it on a relaxing holiday will stir up your desire to travel!?
SPONSORED by Bell & Ross Japan TAGS: Fashion Watches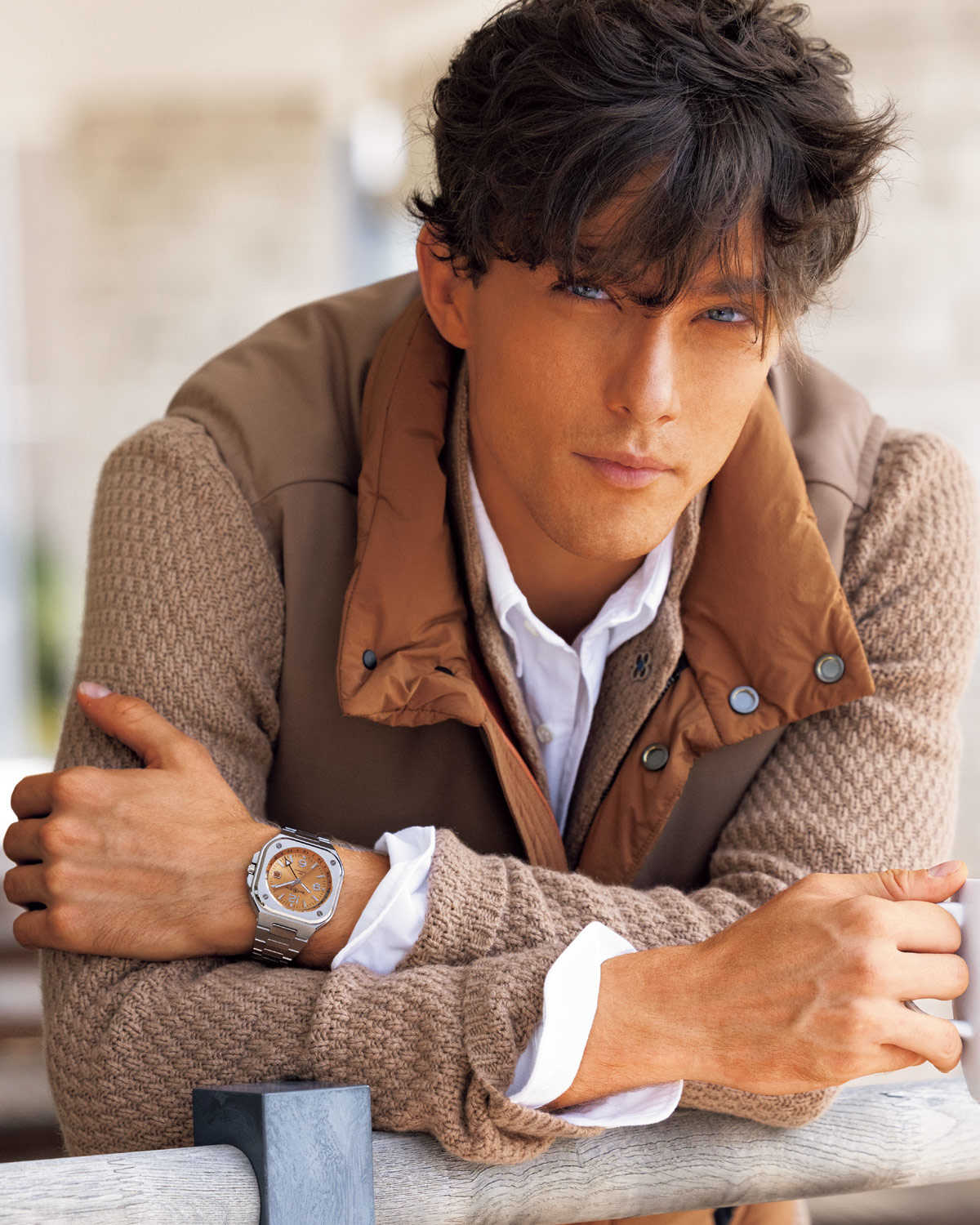 Down vest 66,000 yen (Duno/Toyoda Trading Press Room), Knit Jacket 143,000 yen (Lardini/Toyoda Trading Press Room), Shirt 31,900 yen (Aspesi/Toyoda Trading Press Room)
These days, I often feel that the days when I can enjoy traveling freely are coming soon. At times like this, having a watch that maintains a high level of precision and enhances your outfit just by wearing it, and that has convenient functions that make it a perfect travel companion will make you feel better. The Bell & Ross BR 05 GMT is just such a watch. Contrast between straight lines and curves drawn by the glamorous square-shaped case and dial. The four screws on the bezel are both sporty and elegant, giving it a mature feel.
Another great thing about traveling is that it has a dial time (GMT) function that shows two different time zones at once. Along with the normal time, the second time zone is indicated by a black-edged hand on a 24-hour scale placed on a flange that wraps around the inside of the watch.
And this time, a new color limited to Japan is now available for this GMT model! The elegant amber dial with an exquisite sheen gives a casual color effect to the knit jacket. While making concrete travel plans for the holidays, what time is it now in Los Angeles? I suddenly think of the land. It is also a happy time to let your heart travel one step ahead.
[Bell & Ross BR 05 GMT Amber]
Bell & Ross
BR 05 GMT AMBER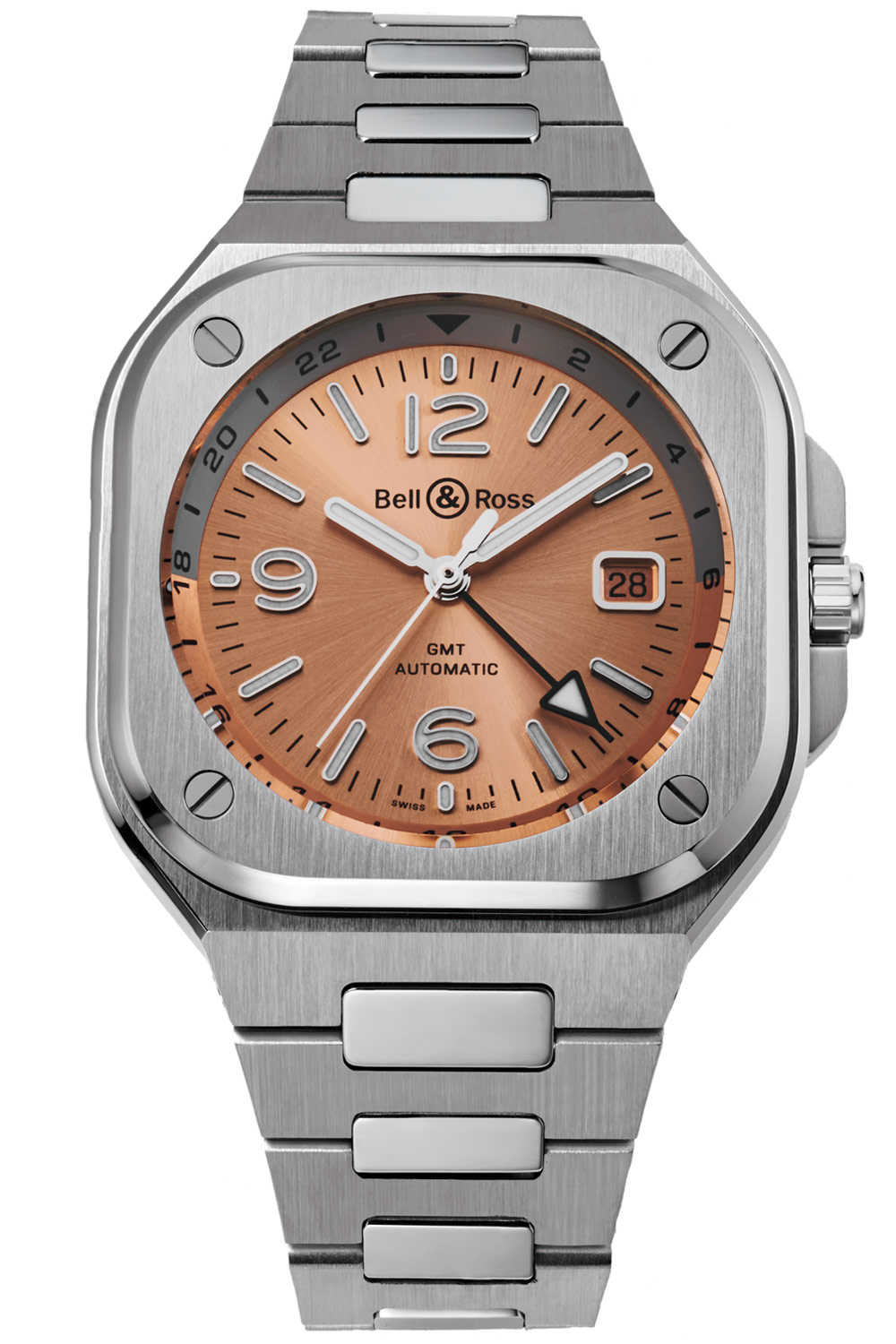 An elegant and functional ragspo clock that allows you to see the time in two places at a glance
's unique design code reminiscent of aviation instruments and the unique nuances of amber are a perfect match. Combined with the presence of the glamorous case, it will be the best accent to give your outfit a sense of style! The GMT 24-hour display uses two-tone colors for daytime (6:00 am to 6:00 pm) and nighttime (6:00 pm to 6:00 am), making it possible to distinguish between day and night at a glance. Scheduled to be released in December, limited to 99 in Japan. Case size 41mm, self-winding, SS case & bracelet, 100m waterproof. 682,000 yen (Bell & Ross / Bell & Ross Ginza Boutique)
Detail Check!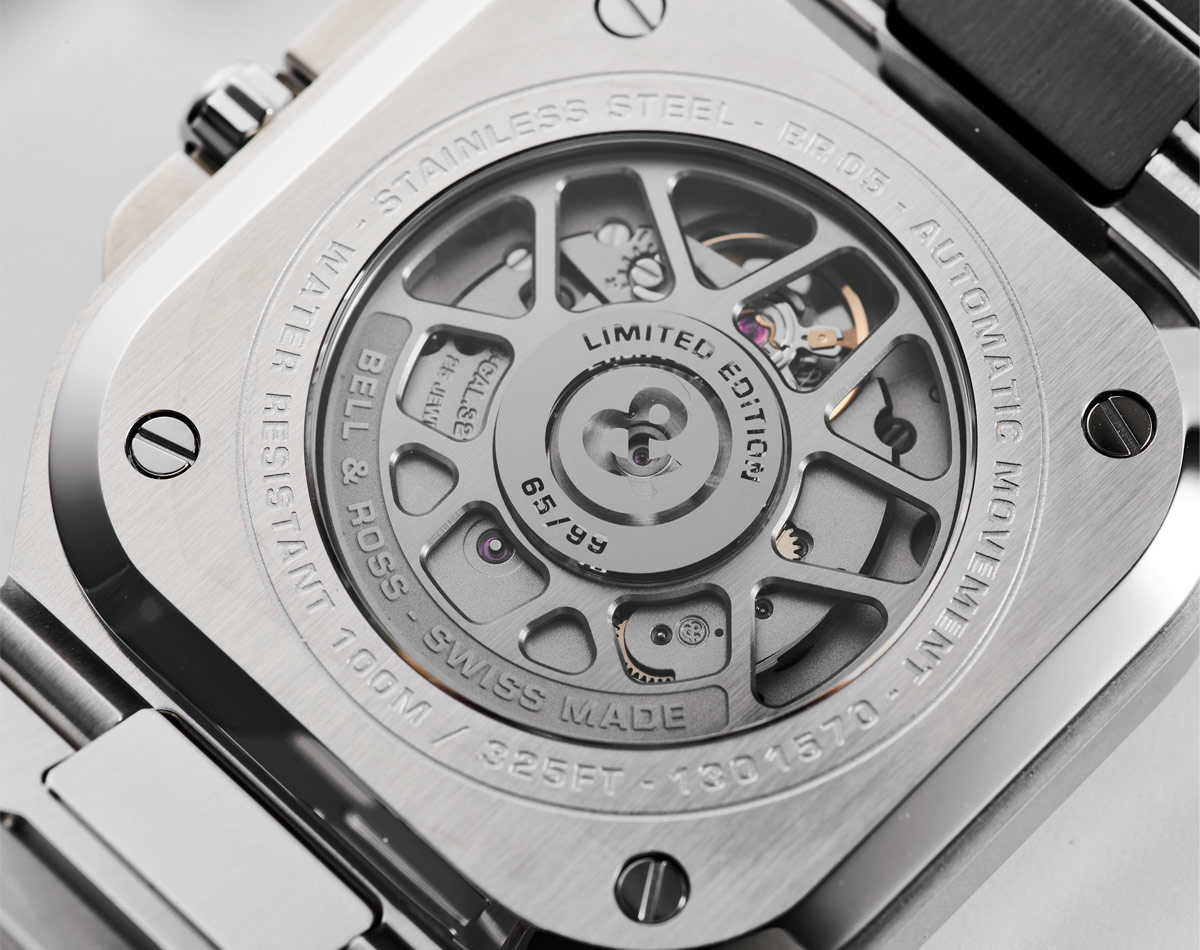 The design of the movement that can be enjoyed from the sapphire crystal case back is also unique! With a rotor that rotates 360 degrees and screws on the back, the pride and playfulness of overflows.
The characteristic integrated bracelet is richly expressive with a rhythmic combination of polish and satin.The shape and finish of each link also incorporates creativity to achieve a supple and comfortable fit.
Photography: Yoshiaki Tsutsui, Tomoo Masashige Styling: Hiroshi Nakagawara Hair and makeup: Ryuji Nakajima Text: Kayo Okamura Composition: Keiko Oshima Photography: Laumeria
photo: Yoshiaki Tsutsui, Tomoo Syoju (BOIL) styling: Kan Nakagawara (CaNN) hair & make-up: Ryuji Nakashima (Happs) text: Kayo Okamura composition: Keiko Oshima special thanks: LAUMERIA
Stay up-to-date with Follow Us Safari Online.