2023.06.16 NEW PR
【Limited Watch】If it is an all-white chrono of "EDOX"


You can wear a refreshing and clean adult outfit!
SPONSORED
TAGS:

Watches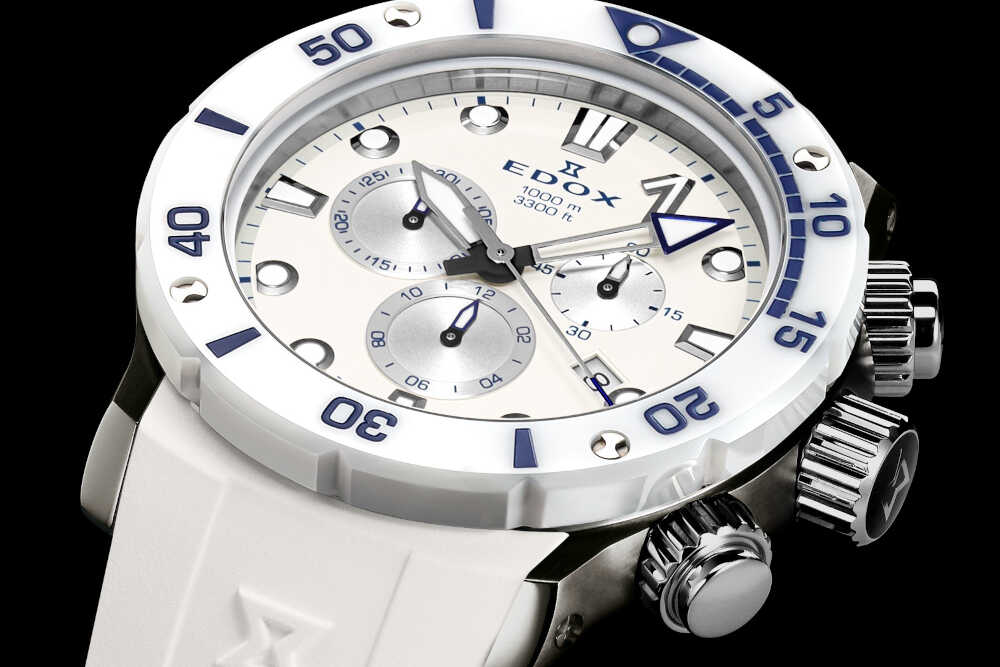 It has become the season when light clothing such as T-shirts and short-sleeved shirts is appropriate. Adults who usually prefer calm colors will also want to add freshness to their outfits. However, if you use it incorrectly, it will stand out badly, and it is surprisingly difficult. In such a case, a watch is a reliable one. Just by placing a refreshing timepiece at hand, the overall impression will change completely. EDOX's new Chrono Offshore 1 Chronograph Japan Limited Edition is just such a piece. All white specification with white coloring of the dial, bezel, and strap. It is accented with a summery blue. Just by throwing this into your usual outfit, you can create a refreshing atmosphere.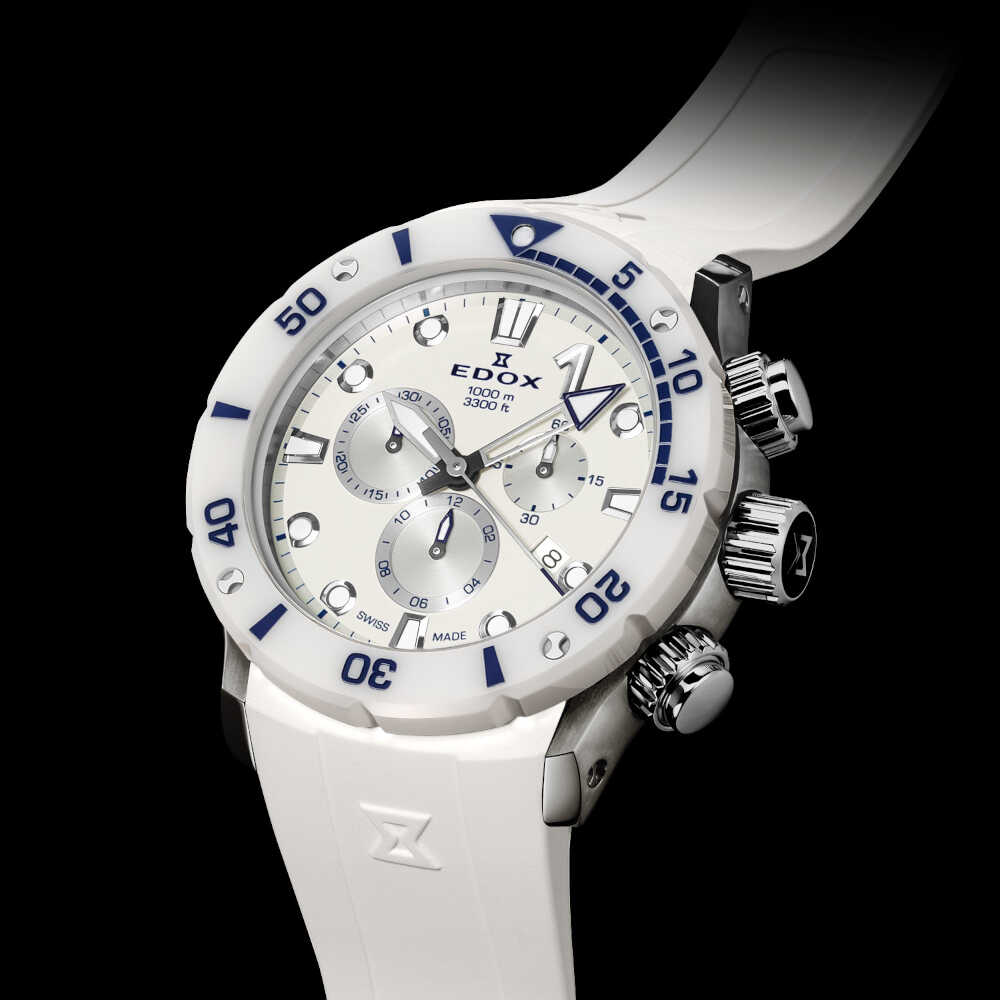 EDOX's Chrono Offshore 1 is a diver's watch that reflects the world view of the highest offshore class of powerboat racing, which is called the F1 of the sea. Extreme racing, which uses a machine equipped with four 1200 horsepower engines, can be said to have a high affinity with Edox, which maintains a watchmaking stance that always pursues heights.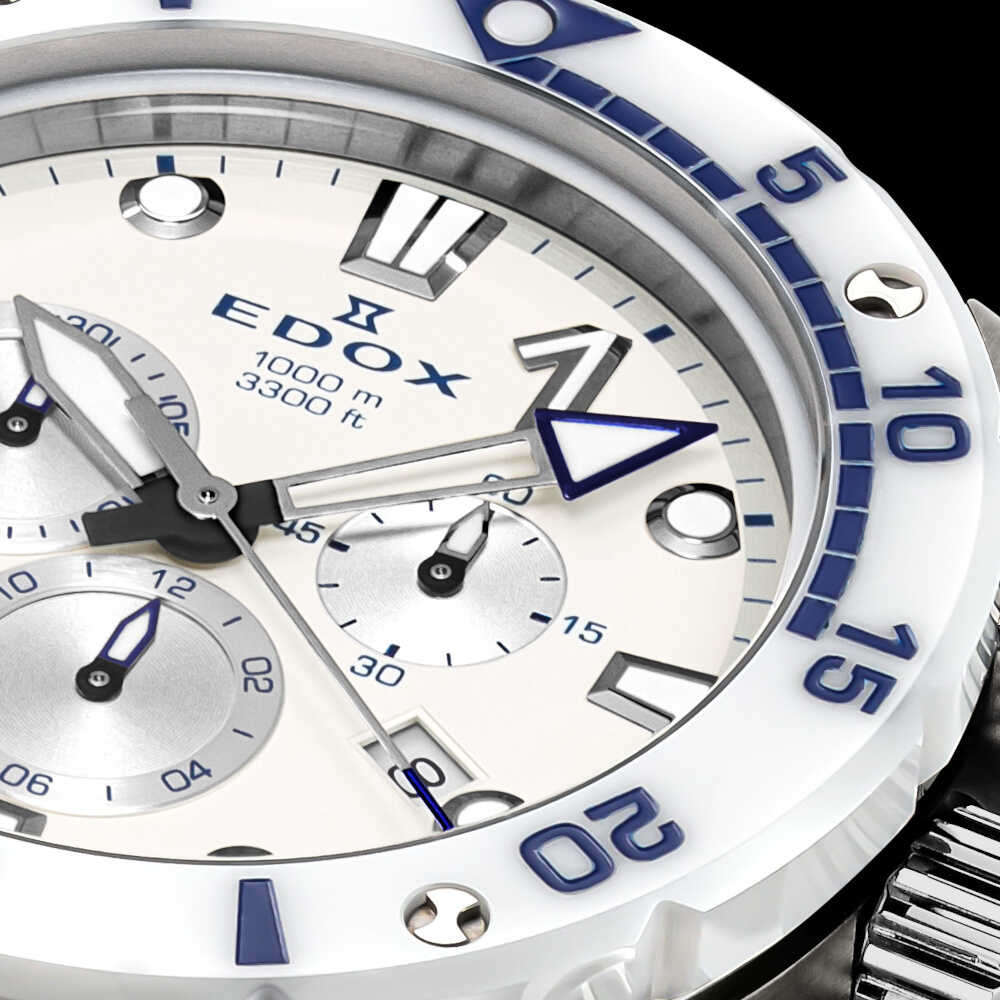 This new product is an all-white model limited to Japan. Refreshing white is chosen for the dial, bezel, rubber strap, etc., and blue is placed on the edge of the arrow hand minute hand tip and the index on the bezel. It creates a light-hearted image that is perfect for the season ahead.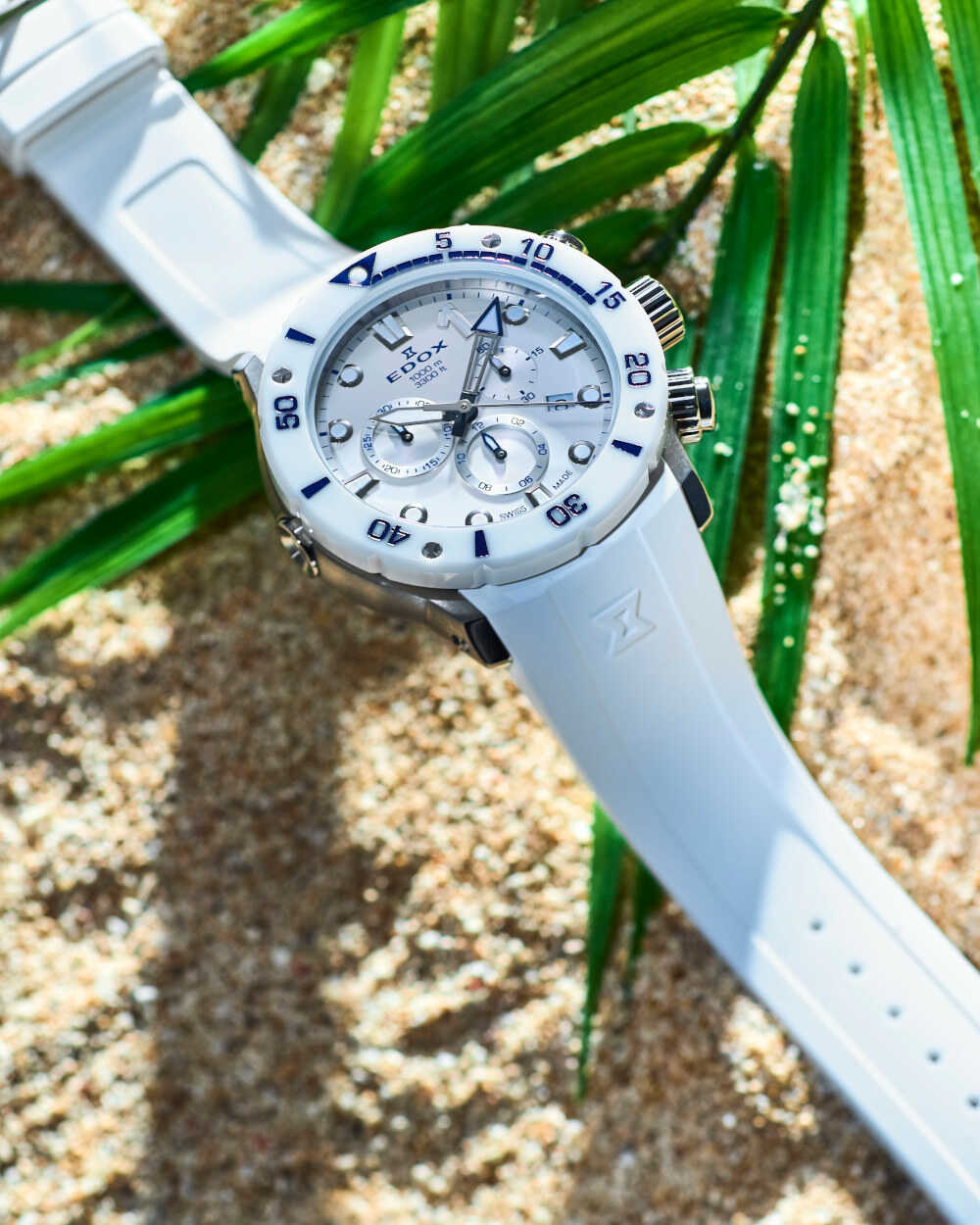 The 45mm rugged case is made of lightweight and highly rigid titanium material. It has a special case structure and high waterproofness due to the screw-in crown. In addition, a valve (automatic helium escape valve) that automatically discharges helium gas that has entered the case in the process of depressurizing when surfacing during saturation diving is equipped as standard. The fact that it is equipped with a high-spec diver's function is a big attraction.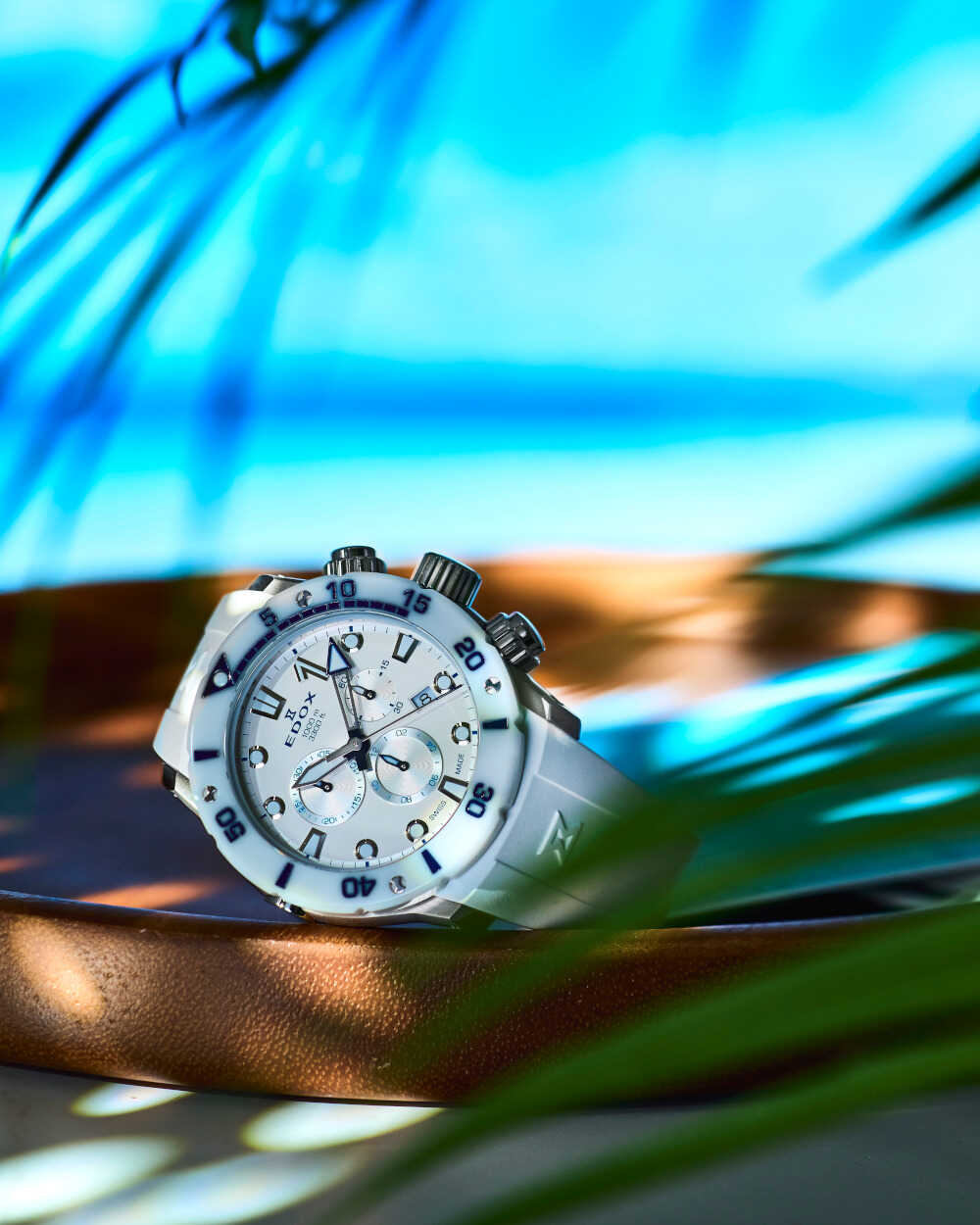 The unidirectional rotating bezel is made of high-tech ceramic. It has the same high hardness as sapphire and excellent scratch resistance. Not only is it resistant to corrosion, but its unique luster maintains its beauty. The four screws on the Chinami bezel design the hourglass of the brand emblem. When you learn about such attention to detail, you immediately become attached to it.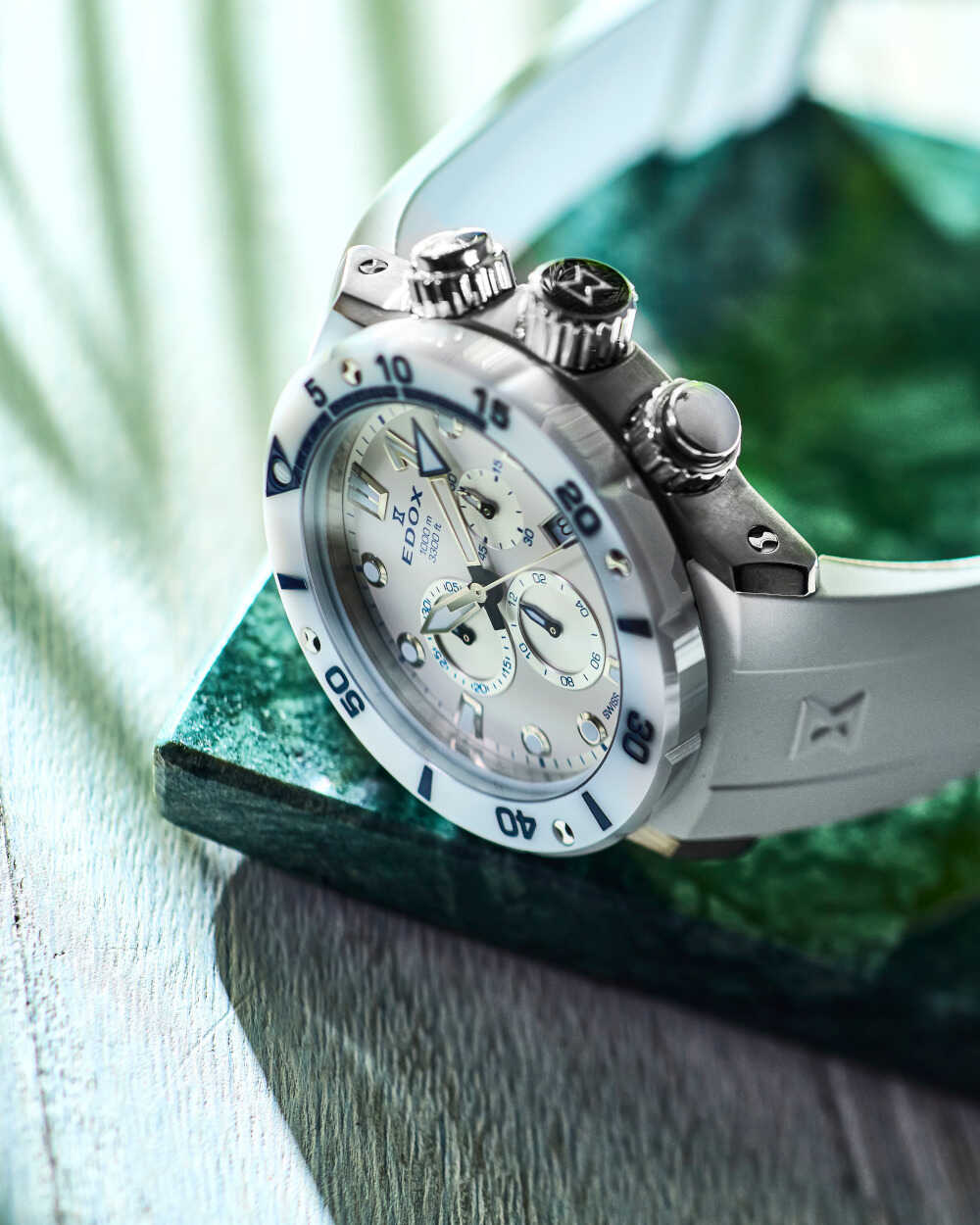 The dial is the third type with a 12-hour totalizer at 6 o'clock and a 30-minute totalizer at 9 o'clock. It is equipped with a date display at 4 o'clock and is suitable for daily use. And the characteristic of Chrono Offshore 1 is expressed in the Arabic numeral 1 in the index. This is a testament to the champion of the racing world. For those who want to aim for the top, the design will give them courage.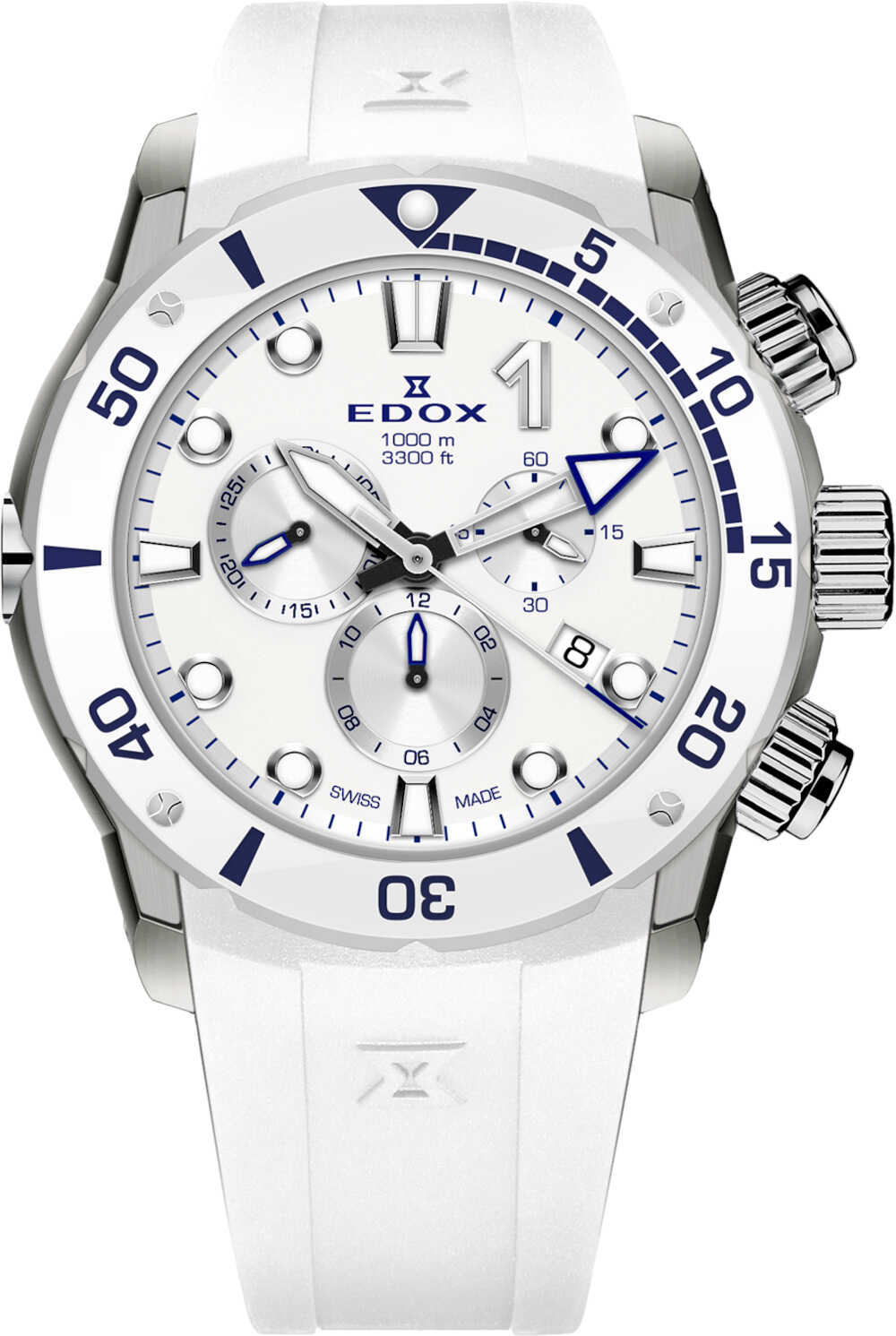 Released June 16. Case diameter 45mm, quartz, titanium case, rubber strap, water resistant to 100 bar. 253,000 yen (EDOX/GM International)
The strap is made of white rubber, which is suitable for rainy seasons and marine sports in summer. This should fit into sporty outfits such as white T-shirts and gray sweatshirts.
EDOX's white chrono combines strength and freshness. I guarantee that it will upgrade the standard summer outfits such as white T-shirts and denim. In terms of expanding the range of coordination, why don't you get it?
Information
●GM International
TEL:03-5828-9080
Text=Yasuyuki Ushijima text:Yasuyuki Ushijima
Follow Us Safari Online Stay up to date.