Richemont Japan K.K. Montblanc will be running a campaign from April 15 (Sat.) ~ May 7 (Sun.), 2023 to wrap Montblanc items in original furoshiki when you purchase them at participating stores.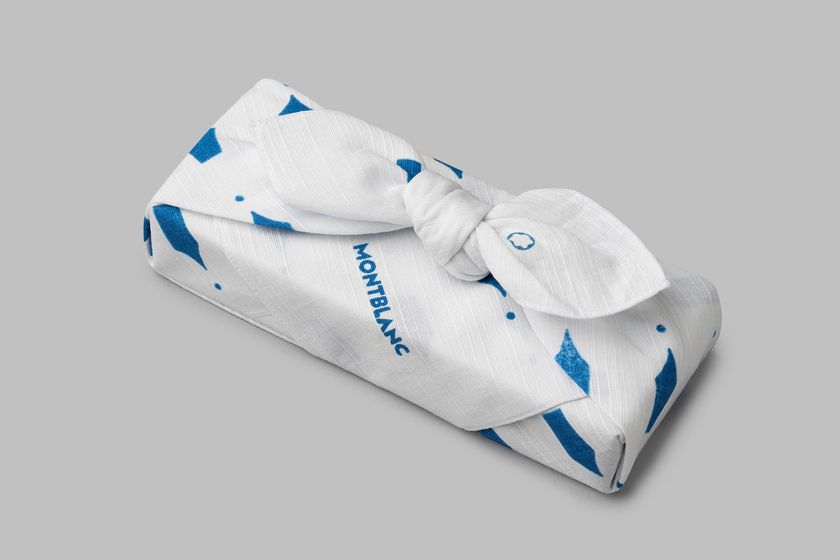 The brand identity of Montblanc, the leader of writing culture, is expressed with the "Furoshiki", a versatile wrapping cloth that is the crystallization of wisdom unique to Japan. Focusing on the reusable "furoshiki" that has been handed down as a culture that values the spirit and things of Japan people's hospitality, we collaborated with a pattern designed with ink blue, which is Montblanc DNA, and a pen tip. It is designed with 88 fountain pen nibs dyed in Kyo-style Yuzen-dyed ink blue on a clean white background, derived from the lucky number of the Japan that expresses the end spread.
It can be used repeatedly even after taking it home, and it is convenient because it is large enough to be arranged for various purposes such as kamisa, handkerchiefs, and souvenir snacks.
■Campaign Overview
Exhibition Period: Saturday, April 15 – Sunday, May 7, 2023
(Only Montblanc Shinjuku Isetan store is available all year round)
Target stores: Montblanc Ginza main store, Montblanc Shinjuku Isetan store, Montblanc Ginza Mitsukoshi store
Montblanc Japan Bridge Mitsukoshi and Montblanc Iwataya
* It will end as soon as it runs out.
* In the case of a product of a size that cannot be wrapped,
It will be handed over as it is.
* Consumables (ink and refills) are not eligible.
About Montblanc
Synonymous with craftsmanship and design, Montblanc was founded in 1906 and has been pushing the boundaries of innovation ever since it quickly revolutionized writing culture. Driven by ingenuity and imagination, we advance the expression of exceptional craftsmanship in all categories, from luxury writing instruments and watches to leather goods and new technologies and accessories. Reflecting its endless mission to create a luxury 'business lifestyle partner' born from bold ideas and artisan skills, Montblanc's white star-shaped emblem is a symbol of performance, quality and refined style. As part of its ongoing commitment to supporting those who want to leave its mark on the world, Montblanc continues to sponsor educational programs around the world and initiatives aimed at helping people reach their full potential.
■Inquiries for readers
Montblanc Customer Support
TEL:0800-333-0102