In the summer of 2023, Swiss watch brand NORQAIN launched the Wild ONE Skeleton from its best-selling Wild ONE collection. The two new colors, turquoise blue, which evokes the deep blue sea, and burgundy, which is inspired by the sunset that dyes the sea red, remind us of the beautiful time we experience at the beach. The movement, like the Independence Skeleton, is equipped with the skeleton movement NN08S.
Wild ONE Skeleton Video: https://www.youtube.com/watch?v=IHdTaHoKnNI
"Wild ONE Skeleton" uses a unique case material "NORTEQ", which is ultra-robust and ultra-lightweight. The use of a skeleton movement makes the regular Wild ONE model even lighter. It also only weighs 78g. This is more than 50% lighter than a stainless steel NORQAIN watch and 6g lighter than a regular Wild ONE model.
The Wild ONE Skeleton combines the appeal of two of NORQAIN's most iconic models, the Wild ONE and the Independence Skeleton, which have cemented NORQAIN's position in the Swiss watch industry. "The combination of these two models not only fulfills the wishes of our fans, but also proves that cutting-edge innovation and ingenious design create a new world of Swiss haute watches," said Ben Kaffer, founder and CEO of NORQAIN.
To celebrate the launch of Wild ONE Skeleton, NORQAIN welcomed Italian Olympic swimmer Filippo Manini as its new NORQAINER. He is a freestyle specialist who won 17 gold medals at the European Championships, won four world championships and a bronze medal at the Athens Olympics as part of the 4×200m relay team.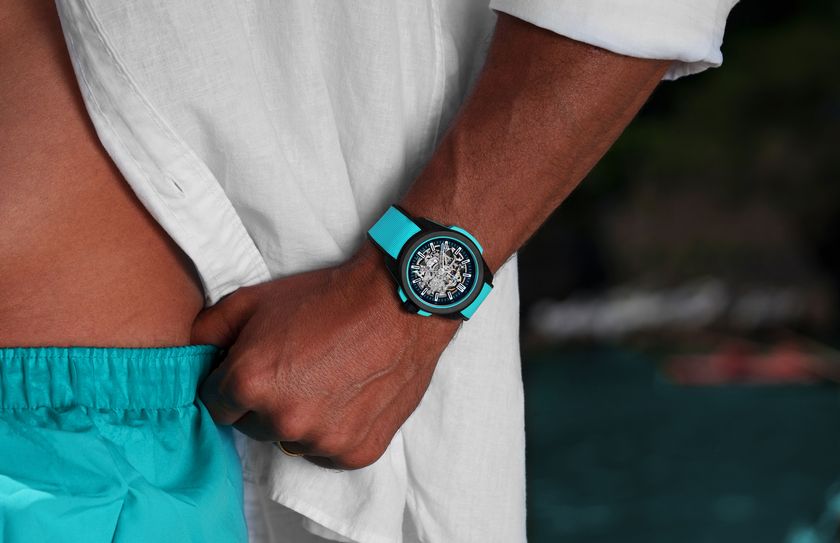 ■WILD ONE SKELETON 42MM TURQUOISE
The Wild ONE Skeleton turquoise model is a beach-style Wild ONE with rubber shock absorbers and a bright turquoise blue strap. It creates the atmosphere of a laid-back day at a Mediterranean beach club and has an eye-catching presence. Whether you're sunbathing, swimming, surfing, it's the ultimate high-performance sports watch with an unwavering reputation.
The Wild ONE Skeleton features an innovative case structure that can withstand the shocks and movements of high-performance sports while boasting an attractive design. This watch, like all Wild ONE models, has a rubber shock absorber that protects the titanium container containing the skeleton movement NN08S. In addition, the shock absorber is sandwiched between a black case made of ultra-lightweight carbon fiber material "NORTEQ". The attractive turquoise colour on the shock absorbers is also printed on the open-work black dial. The skeleton indexes, hour and minute hands are decorated with turquoise X1 Super-LumiNova, while the central second hand has a white X1 Super-Luminova tip with a turquoise outline. The screw-down crown is overmolded in black rubber. The watch is available with an animal-free turquoise rubber strap with black edges. (836,000 yen including tax)
The Wild ONE Skeleton turquoise comes with a turquoise blue NORQAIN cap of the same color. It is the perfect item to spend a relaxing time by the seaside.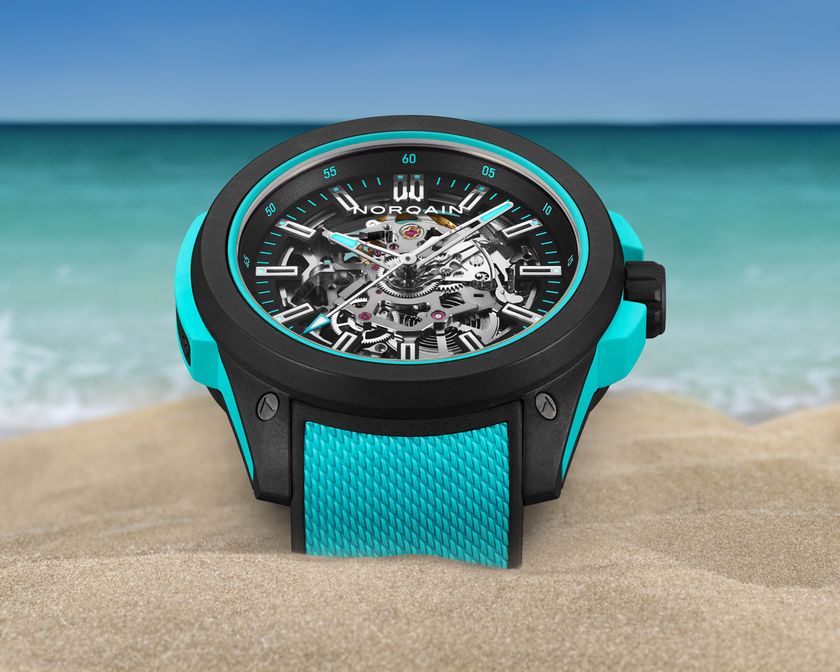 ■Limited edition in sunset burgundy
As a limited edition of Wild ONE Skeleton, we present a beautiful burgundy model inspired by the breathtaking light of a summer twilight. Colorful turquoise is an eye-catching model on the beach during the day, while burgundy in elegant, muted dark tones is a model that enjoys dramatic sunsets. The WILD ONE SKELETON 42MM BURGUNDY LIMITED EDITION is limited to 300 pieces, featuring the popular colors that sold out instantly for the 2022 Wild ONE debut collection.
The WILD ONE SKELETON 42mm BURGUNDY LIMITED EDITION features a burgundy Nortec case and black rubber shock absorbers. The skeleton movement is housed in a sandblasted titanium case. The black openwork dial features white markings, while the red-gold indexes and hands feature white X1 Super-LumiNova. The see-through caseback is engraved with the words "LIMITED EDITION-ONE OF 300" and the strap is available with an animal-free black rubber strap integrated into the case. (869,000 yen including tax)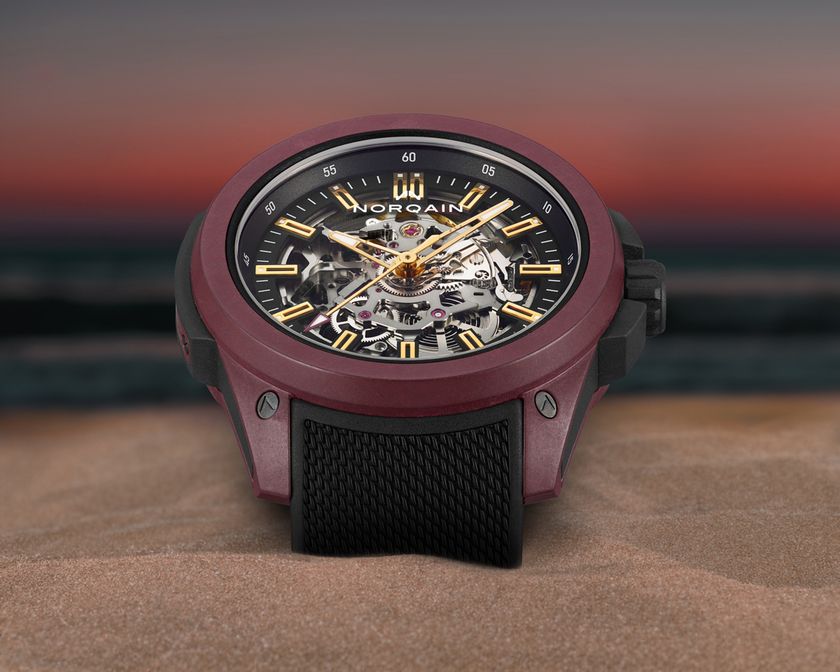 ■NORQAIN's robust skeletonised movement
In April 2023, NORQAIN celebrated its fifth anniversary with the launch of five new pieces, including two new skeleton models from the Independence collection. These were developed based on models presented in 2021 and 2022 and gained overwhelming popularity. And now, the long-awaited skeleton movement has been integrated into Wild ONE's collection.
The unique structure of the NORQAIN skeleton movement was born from the architectural principles of beam construction. Each support point is held by at least two arms. This results in a movement that is sturdier and more durable than conventional construction.
■ A special model of Wild ONE made for Japan challengers.
Wild ONE, which changed the way the world's top athletes think about sports watches, has evolved for Japan challengers. The design identity of "INDEPENDENCE Wild ONE JP" is black and white. In addition to the elegant black of NORTEQ, an ultra-lightweight carbon composite material, the rubber shock absorbers and inside bezel that protect the watch from shocks are colored in white. The three-dimensional black dial is made of three laser-cut layers and is engraved with the NORQAIN Double N logo symbolizing the Swiss peak. "INDEPENDENCE Wild ONE JP" is one of the most impactful liveries in Wild ONE history.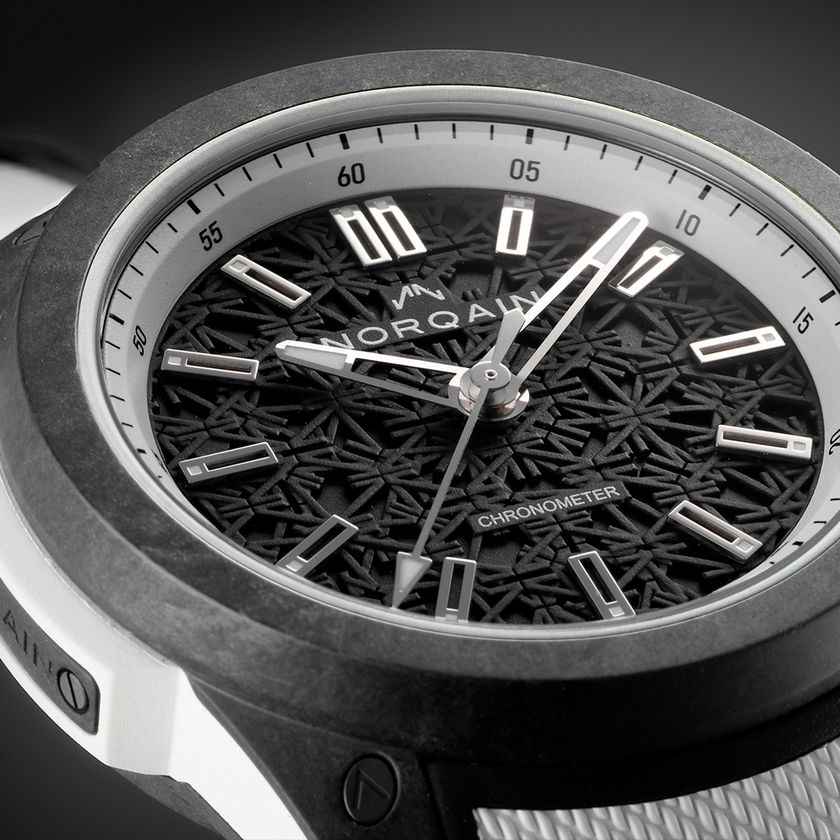 ■ The ultimate sports watch.
Wild ONE is made of a unique carbon composite material that weighs about 1/6 the weight of steel and 1/3 that of titanium, and the development of NORTEQ was supported by a strong partnership between NORQAIN and BIWI, an independent company that leads the development of materials for ultra-luxury Swiss watches. Between the upper and lower NORTEQ cases are rubber shock absorbers that cover a titanium container with built-in NN20/1 calibre. Protect your watch from severe shocks during sports. WITH 200M WATER RESISTANCE, IT IS ADAPTABLE TO ALMOST ANY ACTIVITY ON LAND OR UNDERWATER. The case side is arranged with a NORQAIN plate made of the same black NORTEQ material, and the hour, minute and second hands are also skeletonized.
■Extremely lightweight, for extreme sports
NORTEQ is an ultra-light and ultra-robust material developed exclusively for NORQAIN. It was born from close collaboration with the NORQAIN team, Jean-Claude Biver and BIWI SA. In addition to being ultra-light and ultra-robust, another feature of the material is that it is a carbon fiber composite material with a luxurious marble texture. In addition, it achieves a perfect balance of density, elasticity and resistance for optimum shock absorption. NORQAIN became the first watch brand in the world to implement industrial production technology that allows for a variety of colour variations in a carbon fibre composite case. In September 2022, the NORTEQ Wild One debuted with a standard black carbon appearance, as well as an innovative burgundy color.
The robustness and impact resistance of Wild ONE has been proven by tests to withstand a weight of 5000g. It has the ability to adapt to various sports shocks and is waterproof to a depth of 200 meters.
Equipped with a skeleton movement, the Wild ONE is an exciting model that will evolve the NORQAIN collection. Two types of colors are announced: limited colors and standard colors. Watch lovers and NORQAIN fans can choose between two options when adding a long-selling watch with innovative performance.
WILD ONE SKELETON 42MM TURQUOISE
Reference:
NNQ3000QBQ1AS/B007/3W1QBR.20BQ – Turquoise/Black Rubber Strap JPY 836,000
WILD ONE SKELETON 42MM BURGUNDY LIMITED EDITION
Reference:
NNQ3000QUB1LAS/B008/3W1BR.20RQ – Black Rubber Strap JPY 869,000
WILD ONE SKELETON JP
Reference:
NNQ3000QBW1A/B005/3W1WBR.20BQ – White/Black Rubber Strap JPY 836,000
*All prices include tax.