Sailor Fountain Pen Co., Ltd.
Sailor Fountain Pen (President: Katsuya Machi, Headquarters: Minato-ku, Tokyo) will release the 5th anniversary "Jo" fountain pen and ballpoint pen from Saturday, September 10, 2022 at Sailor fountain pen product dealers. , We will release 3,000 sets of fountain pens and 200 ballpoint pens for a limited time.
■ About "SHIKIORI"
In 2017, Sailor Fountain Pen's four seasons-themed writing instruments became a series called "SHIKIORI". As a writing instrument series that "feels the four seasons woven by Japanese nature", we are developing fountain pens, bottle ink for fountain pens, cartridge ink for fountain pens, ballpoint pens, mechanical pencils, and markers.
In September 2022, to commemorate the 5th anniversary of your support, we will release a limited number of limited color fountain pen sets (fountain pen, fountain pen bottle ink, converter) and ballpoint pens.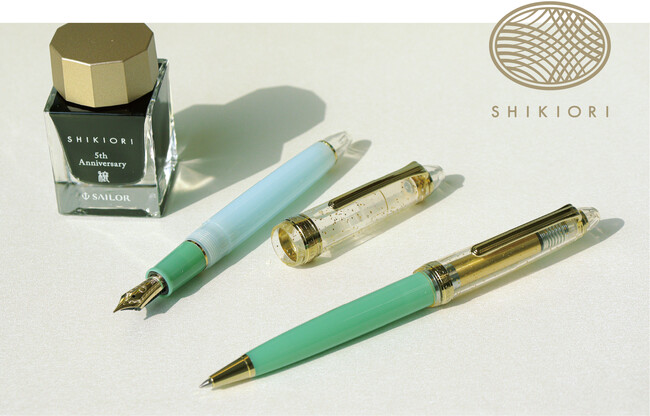 ■ About "SHIKIORI – 5th Anniversary Jo"
Color theme "Jo" Minori
It expresses the scenery of paddy fields that change throughout the four seasons, which is familiar even in Japan.
The shape is reminiscent of a glossy grain of rice, and the coloring is based on the image of fresh rice and golden ears.
We hope that this product will be used for a long time, inspired by the long history of rice farming culture and the kanji character "rice", which is also used for "beiju", a celebration of longevity.
◆ Color image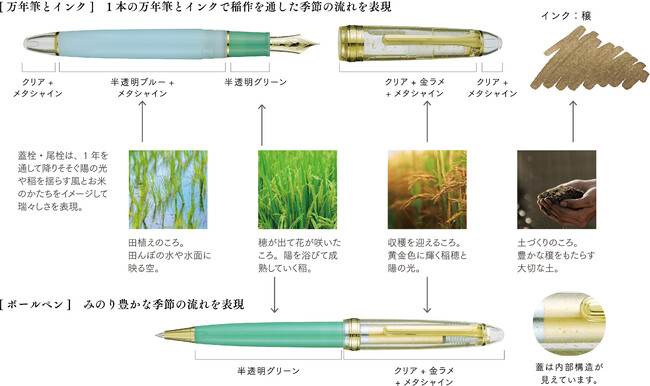 [ 万年筆用ボトルインク 20ml ] Ink color: Yutaka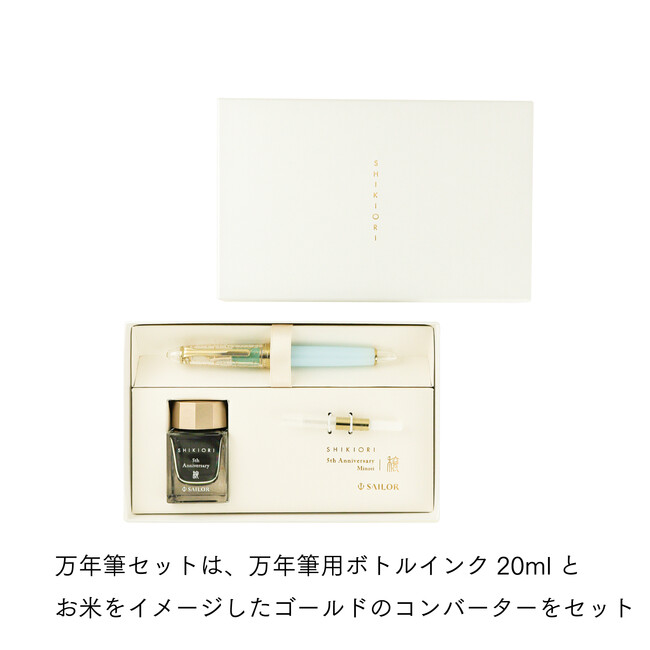 [Product specifications]
Product name: SHIKIORI 5th Anniversary Fountain Pen (Limited to 3,000 sets)
Suggested retail price: 25,300 yen (body price 23,000 yen)
Character width: Medium thin
Nib: 14k gold, medium size
Lid, body, large tip: PMMA resin
Metal parts: Gold IP finish
Body size: φ17 x 135mm (including clip), 16.5g
Package: Dedicated package (W180 x D117 x H40mm)
◆ Set contents
Fountain pen, 20ml bottle ink for fountain pen (ink color/Yu),
Converter gold (natural), exclusive manual,
Dedicated card, instruction manual, warranty card.
Product name: SHIKIORI -Shikiori- 5th Anniversary Jo Ballpoint Pen (Limited to 200)
Suggested retail price: 7,700 yen (body price 7,000 yen)
Method: Rotary
Core color: oily black
Ball diameter: 0.7mm
Refill: 18-0500
Lid: Clear with PMMA resin lame
Large tip: PMMA resin transparent green
Body size: φ15.5 x 134mm (including clip), 19.4g
* Package, special card, instruction manual attached.
[Inquiries regarding product handling]
User service: 0120-191-167 (toll-free)
that's all
Company press release details
To the PR TIMES top